Read some of our professional and customer reviews. The MartinLogan ElectroMotion® Series is new for 2011, so check back often to see new reviews as customers start to take delivery and enjoy them in their homes.
Awards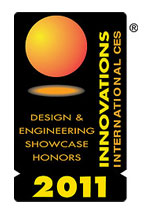 Professional Reviews

"For just under $2,000 retail the MartinLogan ElectroMotion loudspeakers are not only an incredible value but an incredible loudspeaker system. I've encountered no speaker at or even a few ticks above the ElectroMotion's asking price that possess the same transparency, articulation, speed and natural tone."

"The sound of the ESL is blissfully light and sweet and offers a near-transcendental listening experience. It's that rare gem of a speaker that sparkles with a luster that becomes more and more enticing the longer you listen to it. Combined with the EM-C2, EM-FX2s, and a Dynamo 1000, it makes one of the finest-performing, most entertaining, drool-worthiest $5,000 home theater speaker systems you can buy..."
Customer Reviews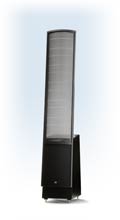 ElectroMotion ESL
Designed for both 2-channel music enthusiasts and those seeking the worlds most articulate and dynamic multi-channel home theater systems, the EM-ESL is the most compelling 'affordable' audiophile-grade speaker ever brought to market.
---
by richf, 9 months ago
1 of 1 people found this helpful






EM-ESL
Finally received my pair of EM-ESL speakers and I am completely blown away. I have heard more details in songs than I never new existed. Beg, borrow or steal and buy these speakers!


---
by Martinw001, 9 months ago
1 of 1 people found this helpful






That perfect sound I've been looking for!
So I'm about 30 hours into burn in on my new ESL's in combo with new Dynamo 300 and am in heaven! Everything is sweet, clear dynamic and great presence. I re-ripped my CD collection to FLAC and am re-discovering it they way it was meant to sound. Plenty of bass without the sub, not a hint of harsh or strident high end. Smooth as butter.


---
by saurabh, 2 years ago
1 of 1 people found this helpful






Truly un parelled sound
I was on a lookout for good floor standers for over 2 months, auditioned right from polk audio TSI500, to Focal, Tannoy, Mordaunt Short, KEF & few more.

But today within 10 minutes of listening to these speakers, I knew these were the ones.. I would rate them better than reference series speakers from other manufacturers, because this gives audiophile quality without buring a large hole in your pocket.

As far as sound is concerned, this speaker gives by far the best possible mid range of all the speakers I heard. It also packs in lot of power in the lower range & high frequency response is just exemplary. In a nutshell, this works as well in a party when playing J Lo; and of course these are tailor made for classical music & unplugged music.

Lookwise they are amazing & with high gloss black finish, they look like nothing else any friend of your would have seen ever (with a sound to kill)

Highly reccomended.




---
by RonC, 3 years ago
1 of 1 people found this helpful






Wonderful speakers
I purchased my Electromotion speakers a few weeks ago. I probably should wait a bit before reviewing, but I do want to share my opinions so far. These speakers replace my Infinity Composition Prelude speakers, of 1995 vintage, that had built-in amps for the 12 inch subwoofers. The infinities were outstanding speakers for all types of music, but it was time for an upgrade. The Electromotions are considerably more transparent than the Infinities (both physically and aurally) even though the ESLs are not yet broken in.

There is a palpable realism and quickness in the ESL sound that includes a sense of "air" around the performers (golden-ear audiospeak - I am no longer a golden ear in that I prefer, nowadays, to listen to music and not just sound).

The imaging is very good, although it seems a little laid back at this early time after purchasing - the orchestra or performer is considerably behind the speakers. It doesn't have the imaging that extends wider than the speakers that I hear in some fine mini-monitors that act more as a point source. However, that statement has to be qualified. When I go to a classical concert or unamplified jazz club, the real-life image doesn't really spread out very far. So, the "wider than the speakers" image may very well be a sonic artifact of the small speakers.

With its 8-inch woofers-midrange, the ESLs extend surprisingly down in the nether reaches of the mid-bass, but don't reach down into the abyssal 20-35 hz zone. I played some old Telarc concert band CD's that have whumping bass drums and was happy with the ESL reproduction even without the visceral vibrations that go with really deep bass. The bass drum slap really gets my attention.

My next step is to get a subwoofer that complements the ESLs. The bass is good enough from the ESLs that I will cross over at about 60-70 hz to keep the 8" woofers from working too hard, but permitting the ESLs to reproduce the bulk of the frequency band. I do need some advice in choosing a mid-price woofer that will blend well with the ESLs.

Yes, folks, these are some fine speakers. I am VERY pleased with the purchase and suspect that the ESLs will even get better over time as they break in.

Thank you, Martin-Logan.

Ron



---
by Steve, 4 months ago






THE INCREDIBLE ESL !!!!
I have owned Martin Logan speakers in the past. I had the original Aerius speakers back in the 1990's. While those were excellent speakers back in the day these new ESL's are light years ahead. I am using them with a class D amplifier. The imaging boarders on Twilight Zone Good. It's unbelievable the sound staging front to back and side to side. The layering of the instruments is thicker than a 7 layer chocolate cake. You can pin point vocals, instruments all over the stage.

What gives me the background to give such glowing comments ? I use to sell high end electronics for a living for more than ten years. I have also been a semi professional musician for more then fifty years and a teacher of percussion for many years.

I used the Aerius speakers with high end tube equipment back then, they sounded fantastic. However, a high end class D amplifier with these new ESL's is definitely the next level.

Many comments have also downgraded the 8" woofer on the ESL's, I have found that when setup correctly the base is FANTASTIC and a seamless transition from the panel to the dynamic woofer.

If you have the chance to audition the ESL's please take along good recordings that you are familiar with. You won't be disappointed.


---
by Chip, 7 months ago






Six Week Assessment
I had never heard of Martin Logan before going online early this year and researching. It had been many years since I bought floor standing speakers. My last ones were Heil Air Motion Transformer "Rock Monitors" w/2 - 12" woofers, a 5" midrange and the AMT rounding out the big sound in each. I thought nothing could rival the "big booming in-home sound" of these vintage speakers. I was wrong. Technology has come a long way! I have all the sound I need filling up a 600 s.f, cathedral ceiling listening room. My hearing is far from what it used to be, but I am hearing things I had never heard before on lp vinyl and cd recordings. I never knew I would enjoy soundtracks and classical as much as I do now with this new sound system. I am very pleased, to say the least. The only drawbacks have to do with the sometimes brassy and "tart" upper range sounds, overwhelming base output. This is only with certain recordings. I am considering adding a sub woofer to enhance the base lows when called for. Also, the sweet spot is so critical that moving just a couple feet up, down, left, or right diminishes the sound quality substantially so put your easy chair in the exact spot and stay put!


---
by datastreamcom, 7 months ago






A year and a half on...
I'm not a shop-talking audiophile, but I know what sounds good and what doesn't, at different volume levels. Speakers are only as good as what they are connected to. In my case, Onkyo TX-NR-809.

My last home stereo of 14 years or so was a Sony 5xxx series receiver with Bose 401 towers in an apartment. The Dony passed of old age in 2009. In 2012, I finally had the opportunity to refresh and upgrade.

I'm still playing with the myriad low-level adjustments provided by the Onkyo. But for critical listening levels, the ESL model speakers are twice as good as the Bose, at the very least. The 401 models were great for their time, and still work great and sound fantastic...for 20 year old technology.

The ESL's are the next level. Mine are coupled to the Dynamo 500 subwoofer. They are 3 times what i paid for the Bose at the time, but sound better and can handle the power of the Onkyo.

If you've always wondered what the 'good sh&8' sounds like, the ESL's break it down for you. If you're wondering, "...are the ESL's worth it...?", I tell you hand over heart, every penny.

Interestingly, after some time researching many high-end speakers - by spec only -, the ESL's were on the low end of the price spectrum. And having heard not a single example of these high-end speakers, save the ESL's, I needed no other option after hearing them at a 'Magnolia' Best Buy, Snellville, GA. (shout-out. gimme some points.)

I purchased the speakers, installed them 2 months later. used them for about 2 months, then they sat for about 8 months. I started using them again in November 2013; 16 months after initial purchase.

i tried to adhere to the break-in period, but by my perception, I can't take the recommended volume level of 70db. maybe for a song or two...if I'm really drunk. So, like you make brownies - lower the temp, lengthen the cook time - I've spent a lot of time at 60db. They seem to sound better than out of the box. But then, the Onkyo has great ability to compensate for sonic deficiencies in the listening environment, thus improving the overall listening experience. So hard to tell which is really creating the great sound I'm hearing...and seeing with my 'ear's eye'.

The principal upon which the speakers operate direct your attention to things you might not have thought to listen for, before. Such as, the echo of the drummer coughing, ricocheting off the wall behind him.

No, I hadn't thought of listening for, or to, that. But strangely, the fact that I can now hear this man clear his throat is 'really cool'.

I'm a smoker, and as such, keep the black covers that came with the speakers on them all the time. I think they DO sound better without them, but for TV and low-level volumes, the covers keep the dust off them, and hopefully the smoke.

I don't 'game', so can't comment on video game sound.

All in all, the longevity is the question. So far, after 18 months ownership, the ESL's have been flawless. To be frank, I'm expecting 20 years minimum life span for the cost. i don't know if that's reasonable or not.

The Dynamo sub is tight and fast. I don't like boomy bass, so this one's tight, I promise. They make a 700 Dynamo. I would recommend that for those with full concrete floors only. Joisted floors like mine carry the bass from a 500 plenty fine.

The only concern i have is, tho, with the Dynamo. I never turn it off. It powers up on detection of an audio signal. Fine. But, if I were a purist and wanted to physically use the power button on the back of the Dynamo, there is a LOUD pop when flipping the switch on and off. It makes the sound of frying bacon...one loud POP. There should be better protection in the circuity to guard against that. The Onkyo, Dynamo, and ESLs are plugged to a Panamax 4100 power regulator.

Martin Logan, you guys are the best kept secret, albeit to your chagrin maybe, in the home audio industry. From an arm-chair engineer, the technology is beyond my full understanding but the results are amazing.

World-class sonic artisans. Martin Logan ESL.



---
by Don B., 8 months ago






ESL performance
I purchased the ESL speakers and 700 subwoofer package for their size and clarity. I originally had Electrovoice theater speakers that sounded great but were too big for my wife. I tried the Bose system and it was fine for vocals nut not serious orchestral music. I play French horn in a symphony and it is very hard to reproduce live music in the home. The ESL speakers are the closest thing I have found to give good reproduction. We are stuck with the poor recordings of records and CDs and at the mercy of the mixer, but these ESL speakers do as good a job as speakers can do in my estimation. They sound about the same as my Koss headphones so for me it is as good as it is going to get. I hope this helps someone. I don't think you will go wrong with the ESL speakers especially if you add a small subwoofer.


---
by John l M., 1 year ago






ElectroMotion ESL are MAGICAL & ALIVE
Absolutely love everything about my ElectroMotion ESL's ! They definitely create a environment of listening pleasure everywhere in the room, however the sweet spot will capture you for hours and hours, especially when the volume is comfortably loud. Even with peak power ( Denon 125W ) the ElectroMotion ESL's produce a clarity for comfortable listening!



---
by Boccaccio70, 1 year ago






Tube amp and the ESL's. Am I asking for heartbreak?
I've never so much as won a box of laundry soap my entire 56 years on this planet, until this week, when I won a pair of Martin Logan EM-ESL's from Home Theater Review.com!
I was just about to buy a Mystere' IA21 50 watt Tube integrated amp when these Logan ESL's so wonderfully fell in my lap
QUESTION: Does a fast tube amp and electrostats soung good together? If so, are the Mystere's 50 watts enough?. I don't demand ear pounding sound, but like to politely rock out occasionally. My tastes range from Chesky to Sgt. Majeski, Gentle Giant To Imogene Heap, Mahavishnu to the Monkees, Morphine to Sinatra. On and on...
QUESTION 2: what amp in the $3000/$4000 range, , be it tube or SS, would you personally recommend? And why? Thanks to anyone who ponders this thread and Martin Logan for President!


---
by Thomas D., 2 years ago






The best ever
I installed my pair of speakers last week after debating for weeks whether I should spend the dollars on them. From the moment I turned on the music I knew it was more than worth it. These are the best speakers I have ever owned, that goes back a long way. I listen mostly to opera and classical music and these speakers are the first I have ever owned and among the three models that I have tried that re-produced the music as clearly and authentically as the real thing. I have listened to "my type of music" on speakers that cost in the high five figure range. I would put my new Martin Logans up against the high dollar combinations any day.
I have a home theater in my home. This week I am replacing all the speakers with Martin Logan.


---
by deReuter, 2 years ago






Electromotion
Hi all,
2 weeks ago we bought a pair of Electromotions. We are really satisfied by the sound. We note that placing the EML's is a precision job! But once placed in the right position, perfect!
Not to close to a reflecting wall, also be aware of the wall behind you. Can be negative in sound behaviour. Also the angle is very nice to play with. Just do it, we recommend.
We still had a sub with we tested in the system. We do think it is a good additive to the set when place in a bigger room (in our case 4,5 x 7 m, and beside an open kitchen and diner room. Total open space up to 5 x 12 meter.
Combined with Cambridge Audio Amp 740, Hifidelio HD Hermstadt and REL QuakeII
Good buy!!
Erik


---
by jabroyles, 2 years ago






I love my ESL speakers
It is hard to put into words the quality of sound that these two speakers emit! I used to listen to music by only headphones. I have own a set of Stax electrostatics and Grado RS1 headphones. I never found a set of speakers, that is until now, that were good enough to compete in sound quality with these headphones. Well my search has now ended, and surprisingly I did not have to drop $5,000 for them. These speakers blew away everything else in Best Buy Magnolia room except for another set of Martin Logan electrostatic speaker that run right at $5,000. I finally, have found what I would call an audiophile class speaker. Great work Martin Logan for building an exceptional product that does not require a king's ransom to purchase!!! You certainly are giving all the other manufacturers a serious run for their money! Job well done!!!


---
by James S., 2 years ago






5.1 Electro Motion Series
http://www.youtube.com/watch?v=JtM2pErTyZk


---
by Steven Simpson, 2 years ago






Long awaited excellence
When I was a college student in the late 70's, my roommate and I used to hang around Kief's, in Lawrence, KS. We loved to demo the systems, but neither of us had much money and we had to settle for buying a modest system for our room. We both proceeded to marriage and graduate school, families, and such. In my case, the spousal unit likes music but doesn't "get" high fidelity. Sadly, I've packed on enough years that it might be true that I no longer get it, either, albeit in the real physical sense of age-related hearing loss.

Anyway, with all the kids out of the house and a major home renovation underway, I managed to slip a new system in under the radar in a somewhat cost-conscious fashion. I began searching around for what might meet the spouse's need to not spend any money at all on stereo with my long-repressed impulse to fill a room with the best music I could manage. You can imagine my delight to find in my own back yard (I live in a Kansas City suburb) some of the finest loudspeakers that I, myself have ever heard. I purchased a pair of ElectroMotion ESLs and paired them with a Yamaha A-S2000 integrated amp and its accompanying CD-S1000 CD and SACD player.

A couple of months later, I can tell you that as I'm sitting and writing this Kelly Joe Phelps is in the room with me. Actually, the placement has worked out such that he sits just outside the French doors leading into my dining room and sounds as if he had pulled up a chair and is playing for me. The purity and clarity of sound is literally awesome. The sound image is as real as it gets. I've never owned anything like this system, although I tried through the years to edge up a little here and there, and I can say that the wait was very much worth it. I am SO pleased with these speakers and this set up, that I cannot speak more highly of it.

I don't know if I met Martin and/or Logan at Kief's back in the day, but there's a good chance that I did. And I also am cognizant of the full circle that I've traveled. I've lived in a number of places across the US, and to come home and find such excellent audio just up the road, made by guys who may have been among the first to introduce me to good audio, is a real treat!


---
by Dtown Boy, 2 years ago






My first ML's
I do love my new ESL's but I've been spoiled by my brothers upperscale ML's which inspired me to buy my outfit. ML's are truley unique and great sounding!!
It's nice to get out of the box!!!!


---
by LarsHP, 2 years ago






A revealing diva
I have had my ElectroMotion ESL's for about 10 months now and feel as confident in writing a review as I probably will ever get.

First of all - these speakers are revealing. By that I mean transparent, highly resolving and controlled. This will be a blessing if the rest of your audio chain is of high end quality, but may be a curse if your source or amp isn't up to the task. That being said, I don't experience these speakers as analytical or cold sounding. They're just not introducing much or anything hiding what's upstream in your audio chain.

Bass is very tight and controlled, however not going as deep as I would have liked. The mids are INCREDIBLE. Voices are extremely lifelike. I feel like having real people of flesh and bone in front of me singing and playing. Treble is less smooth than I expected (coming from the high end planar headhone HiFiMan HE-6, which really is special in this department). The electrostatic panel of these speakers will tell you if you have any jitter!

I "had to" upgrade my transport after getting these speakers... That's where the "diva" part comes in - and also when considering placing the speakers and yourself in the room. They need very good distance to the front wall.

Finding the right LISTENING position showed up to be much more important than I thought. There is a 10dB dip around 40-50Hz at my usual listening position, which at first made me think that the bass was less than it actually is. This will of course be the same for all speakers at that spot, but since this is were these speakers roll of (-3dB at 42Hz), it sounded more apparent than with my old speakers, because those go deeper (-3dB at 32Hz) and generally has more output in the bass.

Soundstage is spectacular: Instruments or voices seems to be respectively closer and further away compared to my old speakers - and on some reference recordings instruments/sounds seems to come from either more left or right than the position of the speaker. Pin pointed sound sources sound pin pointed. A close mic'ed voice on reference recordings will sound big and broad, but still have a centre focus.

Sweetspot is actually quite broad when the panel is turned directly on the listening position. This gives me the best sound. Front wall reflection is not very apparent anyway compared to my old bi-polar speakers. When only slightly turned inward (as recommended in the manual) the sweetspot is relatively small and only for one person.

Speaker terminals / binding posts are not up to the quality level I would expect on a speaker like this, and is not a minor complaint. It is actually difficult to get a proper and sturdy connection - especially if you have a bi-wire cable and want to connect both cables to each binding post. I had to buy extra banana plugs (with double connections) to get my expensive bi-wire cables attacted.

In terms of power requirement, my 50W class A power amp does a very nice job at moderate-to-loud volumes. When turning up to loud levels it runs out of steam even though it has a huge power supply. I guess 50W is underpowering at these levels. When my new subwoofer is attached this problem is gone. Tight, powerful bass with high reslotion mids and clear treble - at loud volumes!

I am giving these speakers 4 out of 5 stars because they are extremely competent in the audio spectrum they perform in. However the output is limited in the low end (below about 45Hz). I decided to get a quality subwoofer to compensate for this (without pushing the budget too much).

My reference in terms of high end transducers is not speakers, but the above mentioned planar headphone, HiFiMan HE-6. My old speakers are the (bi-polar) Mirage M-1090i with highly upgraded crossover components. They are beaten by the ElectroMotion ESL in just about all aspects of sound reprodution.

The reviewed speakers are used with the following:
Squeezebox Touch (w/ Fideliy Audio digital mod)
Audio-gd Reference 7.1 DAC
Audio-gd Master-6 pre-amp
LC Audio ZAPsoulte Mk.4 power amp (50W class A)
MIT Terminator 2 bi-wire speaker cables
SVS SB12-NSD subwoofer


---
by Peter T., 3 years ago






Amazing, and run off my 8 watt SET - who would have thought....
I purchased the Electromotion ESLs a fortnight ago and while a little premature to review (still breaking in), frankly I'm shocked by the quality of these speakers. They really are incredibly transparent and having never owned electrostatics before I am a convert, particular on their seamless midrange.

However, what I am most surprised about is that they are running off my 300B single ended triode mono blocks. Okay, my amps are running BlackArt transformers (teflon, silver etc) tapped to 4ohms which handle the 1.6ohms @ 20khz, but really, this shouldn't be working....but it does - go figure! It a room that measures 6m by 12m they run loud enough , not AC/DC concert loud, but the full 8 watts of triode power delivers a very healthy level of DBs and only once have I had them at full volume.

I'm sure many people audiophiles, including myself, would have thought that an SET amp and electrostatics were a match made in hell. Like me, you may have expected performance similar to a 1920s gramophone. But if you would hear what I'm listening to now it's truly a match made in heaven, the combination of the incredible transparency and detail of the speakers and the smooth, natural and liquid nature of the 300Bs is extraordinary.

Well done Martin Logan, great product, amazing price and I've enjoyed challenging a paradigm (and I'm not referring to the speaker brand!).


---
by Luis Eduardo R., 3 years ago






PURE PERFECTION
Amazing Sound, Great Design, Sound Transparency, High Quality Finish = Pure Perfection.
From Heredia - Costa Rica, Central America 11/04/11
Luis Eduardo Rodríguez D.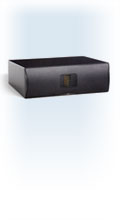 ElectroMotion C2
A powerful center channel with larger Folded Motion XT Tweeters, sized to fit discreetly within any standard audio-video cabinet.
---
by jaramill, 2 years ago






On Target - Dead Center
As the title states it is on target for what this speaker is intended for. To take the weight/bulk workload of my left/right ESL and handle all the dialogue. The C2 center channel works great and actually makes it seem like the sound is coming from the middle of my TV screen as opposed to where it is located. In my case it's located below and out front of the screen inside a cabinet drawer.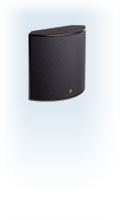 ElectroMotion FX2
Dual Folded Motion XT tweeters in a wide- dispersion array ideally suited for surround channel applications.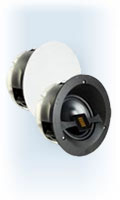 ElectroMotion R
Lifelike imaging and deep bass performance from a in-ceiling speaker with 8" woofer.
---
by HandDOC, 3 years ago






Finally my system is happily complete
So, I listen a lot to reviews when I purchase a product. Especially something as new as the EM-R's. But their was one big problem. These speakers are so new, no one's carrying them! I've looked on Youtube... Nothing. So I thought I would write the first review on these.

Firs of all, my wife said I can have a nice system as long as she doesn't see it. Well, that kind of narrowed it down so I went with the ceiling speakers.

The main use for this system is movie and TV watching in the living room. We will turn on Pandora through the Panasonic DVD player but that's about it. I just wanted true sound.


1) My knowledge:
Novice. I understand a lot but not half as much as some of you. I know I want nice voice for movies and no humming.
2) My TV- Panasonic VT65 30. Definitely the best plasma on the market. Better than any of my LED's or LCDs.
3) My system:
a. elite 32X Reciever-had to have it professionally set up b/c I have no idea what all those buttons, knobs and things go to. I also don't give a damn and I don't want to learn it.
b. 14/2 wires going to the 5 EMR's in the room.
c. 700 sub with the wireless reciever. I really had no idea where I wanted to put it.
d. 5 EMR's. I even have one as the center speaker and it rocks!
e. Harmony 900 controller. Don't think this matters but just thought I tell ya.
f. 6 theater seats surrounding the room.


I've only had the speakers for 1 week so I'm sure I'll update you as time goes by.

As of 1/26/12- I had the system professionally installed and callibrated. As far as bass- It's sick. You truly get a deep bass from these speakers but the tweets are extremely clear. I watch movies all the time and I can understand everything they're saying perfectly. I feel like they're walking around me when they move on the screen! Don't have much more to say about them just yet.

Pros- Bar none. They really are what they say they are. There seemed to be a lot of hype but they definitely back it up.

Cons- Other than price??? I would have to say the bass seems a little to much. I'm sure I'm suppose to change something on the reciever but I'm still learning. You probably wouldn't want to hook these up yourself. You've got to move the tweet around just right for your listening experience. Pay the extra $300 and let someone else do it.


Overall: I'm very pleased. My wallet is a little thinner but you just can't beat the sound quality. I was racking my brain paying this much but I'm glad I did. I would do it again now that I know you usually get what you pay for with speakers. Good luck!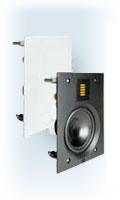 ElectroMotion IW
Lifelike imaging from a very compact, high-performance, in-wall speaker.
ElectroMotion IC
Lifelike imaging from a very compact, high-performance, in-ceiling speaker with 6-1/2" woofer.