Starting at $6,795 per pair

Quick specs:
44" x 9.2" XStat™ CLS™ Transducer
200W 8-inch PoweredForce™ Woofer
24-bit Vojtko™ DSP Engine
8-inch Passive Radiator

Professional Reviews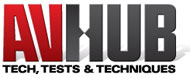 "The aesthetic beauty of MartinLogan's electrostatic speakers is such that they have appeared in dozens of films and TV series. Their outstanding looks and unusual design make them desirable visual fodder for art directors, and there's every chance of them achieving that elusive quality known by most audiophiles as 'Spouse Acceptance Factor' (SAP)."
Customer Reviews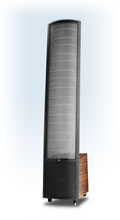 Ethos
Massive PoweredForce™ bass performance and unflinchingly accurate XStat™ electrostatic technology.
---
by Jim D., 2 years ago
1 of 1 people found this helpful






Simply Amazing
I have had my Ethos for about a month now, and for once in my life I am speechless. As they begin to "Break In", I can actually detect specific sounds (vocals, instruments, breathing, etc.) that I swear were never present before. Please trust me when I say, and what I've heard time and time again, but they do make you believe that the band is playing live for you in your very own living room. Yes people, they are that good! To the men here who may need spousal approval to spend the significant amount of cash required for these, I strongly recommend that you take her to your nearest ML dealer and just let her see them; worked for me.
Jim D.
Edmonton, Alberta



---
by LMML, 4 months ago






Eureka!
As a very satisfied Martin Logan (ML) owner who used the Aerius/Abyss subwoofer combination for over 20 years, I was very surprised just how much more better the Ethos sounded. I had not got back into the speaker market until I heard the Ethos. At that point I knew it was time to replace my speakers. I listened to a lot of other brand speakers but finally knew that replacing my present ML setup meant buying another ML speaker - the Aerius were still very competitive with many of today's box speakers. After putting the Ethos in my audio/video setup I immediately was aware of how much music I have been missing. The Ethos are magnitudes better than my old setup. The Ethos have exceptionally more clarity of detail, soundstage, body and "oomph". My kudos to Martin Logan for building an superb speaker in the Ethos...back in audio nirvana!


---
by GrandAudio, 7 months ago






I wanna put the martin logan in my shop
Hello..my name is denny..
Nice to meet you..
I live in indonesia..
My uncle open a audio store in pondok indah mall..
Its located in jakarta (capital city of indonesia)
Pondok indah mall its located in south of jakarta..
Many rich people live around in this south jakarta..
I text you for the reason I wanna put martin logan speaker in my uncle shop..
But I dunno how I can find any dealer in this country..
Email me back for sure..
Ah..one more think Grand Audio its 7 year in this mall..
Our speaker its vienna acoustic, mourdant short, mission, paradigm, polkaudi.. And ect

I think the martin logan its better more than those speaker I write..hhaahah..

Contact me in khoedenny@yahoo.com

Or call me in 081287455545

Thx martin logan..I waiting for you..


---
by FOZ, 1 year ago






Martin Logan excells again
I recently purchased a pair of Ethos to replace a pair of 20 year old Eosone 1000 speakers. The performance of these Ethos represent a stunning transition to a much higher level of listening enjoyment. The Ethos are well balanced no matter what the choice of music from classical to country rock. Their clarity and presence are a constant enjoyment.

I cannot be happier with their performance and their visual appearance make my wife smile. It just doesn't get any better than that.


---
by Mike N., 2 years ago






A great buy!
These speakers entered our home just days ago to join many other pairs of great speakers from companies like B&W (home studio & office), JBL (guest rooms), James Loudspeaker & Triad (home theater), Cambridge Soundworks (gym), Polk (pool), Genelec (home studio), and others. And they're my first pair of electrostatics. As a musician with a home studio, I always prefer speakers that accurately reflect source material and minimize colorations. And these don't dissapoint.

From Hilary Hahn's violin, to Hiromi's piano, to bands like Rush, through a variety of material, these speakers sound superb and don't fatigue my ears after extended listening (which is unusual). Ethos truly shine on vocals and close miked instruments -- which may sound like they're in the room with you depending on the quality of the recording.

The Ethos now provide all the sound for an approximately 30' by 30' living room area in our home. The stereo field and tonal balance are excellent... which was a serious concern before the speakers were actually hooked up. (Acoustically, it's a difficult room with many reflective surfaces.) And at a dinner party last night... guests were admiring them because of the way they *looked*!

I maintain a large CD collection on a Kaleidescape system... and have spent hours jumping back & forth among a variety of albums & genres. For the price, they're a bargain compared with other monitor quality speakers I've listened to.