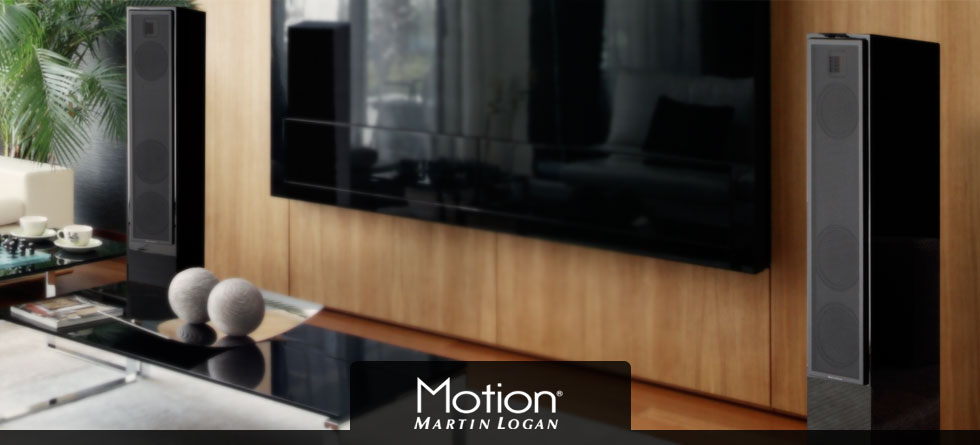 Read some of our professional and customer reviews. The MartinLogan Motion® Series is new, so check back often to see new reviews as customers start to take delivery and enjoy them in their homes.
Awards
Professional Reviews

"But it wasn't just this soundbar's brute force that impressed. The Motion Vision also proved to be a surprisingly musical, with a lush midrange and sparkling highs compliments of the same exotic tweeters used in MartinLogan's high end speakers."

"I can say that the Motion Vision from MartinLogan is the first soundbar that I would personally consider buying. At the very least, it represents my new benchmark by which all others will be judged."

"...the Motion 40s really do perform above their price point. If you enjoy clean, highly articulate highs and mids, these are going to make you smile."

"Though my head is usually up in the clouds listening to five figure speaker systems, this is truly a breakthrough in budget speaker performance."

"Really, you'd have to hear one of these little beauties to understand just how different it sounds from a traditional loudspeaker...[the Motion 12's] exhibit a rich dimensionality that is, quite frankly, eerily verisimilitudinous."

"These may be the least expensive line of speakers that Martin Logan has ever produced, but their audio-reproduction capabilities remain consistent with the company's high standards of quality."

"Truth be told, the system performs so well in so many respects that I find myself expecting too much of it at times, comparing the speakers to those costing two, three, five times as much. "

"If you want a home theater and music system to rock on a budget, these are speakers to seriously check out."
Customer Reviews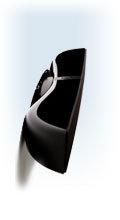 Motion Vision
5-channel surround sound from a sleek and sculptural all-in-one system that's stylish yet unobtrusive, simple to install, and easy to operate. Three advanced-resolution Folded Motion™ tweeters, four 4-inch high-performance woofers, and seven dedicated amplifiers deliver 100 watts of total system power.
---
by Ken, 12 months ago
2 of 2 people found this helpful






No Compromises
I recently moved to a new apartment in California, and while the space fits all my needs, the walls are irregularly placed, making speaker wire particularly cumbersome... Not to mention the fact that, as a renter in California, I can't really mount anything to the walls. So recently, I've been looking at soundbars to replace my older surround sound system, and decided on the Martin Logan Motion Vision. It's one of the absolute best purchases I have ever made.

Before hearing the ML Motion Vision, it really disappointed me to have to "settle" for a soundbar, rather than a full-fledged surround sound system. Sure, most soundbars are at least an upgrade from your television's built-in speakers... But the "enveloping surround sound" that they usually advertise is full of baloney, and even when you listen to a decent soundbar, there's still one problem... It still sounds like a soundbar. Tinny, or not enough bass, muddy, unclear separation between channels... The list goes on.

But when I ran into the Motion Vision, my opinion of what a soundbar could be changed completely. Honestly, in the right room (not the high warehouse ceilings and wide open spaces of big box retailers - though, it sounds pretty good there), it puts some surround sound systems to shame. Crystal clear high range, deep bass - both with no distortion, even when cranked to 11... Amazing separation of channels that envelops you completely... And the best midrange (dialogue) I've ever heard from almost any home theater speaker, particularly for a soundbar.

That's the thing... For the first time ever, I didn't have to "settle" for a soundbar... It puts my old surround system to shame. It's also a snap to set up. The option to add a subwoofer is nice, but not a necessity for anyone without a high-end sub... There's more than enough bass here, you can feel it in your lungs. Sure, it could have used some HDMI inputs, but the connectivity options are fine and shouldn't be a deal breaker for anyone. The Motion Vision is all about audio quality, and it delivers.

This is the best soundbar ever made, period. And buying it doesn't feel like a compromise... It's an upgrade.


---
by Sutton R., 6 months ago






Before you buy
4.8 stars, so close to 5 you can taste it.

First - If you can find a better sounding powered soundbar for less money, be sure to pass it on.

If you are serious about sound, though, a sub is a must, imo, although many, many people would never miss one. I prefer the sound when the "wall mount" setting is selected, vs the "on shelf" setting. Be prepared to experiment. While this kind of bass extension is unheard of in most soundbars (btw, literally correct so not really a pun, kind of like a pun), it sounds better if the job is shared with a sub. Overall, I am very happy with the purchase, but want to share something that might be helpful to some shoppers. Specifically, how I worked around the one shortcoming that I care about.

Setup -

I am using the Motion Vision for video and audio playback. Sources include a cable box and two disc players, that play most formats of video and audio discs. One player also streams video and audio via the Internet and DLNA.

Goals -

Listen to music without having the TV on and program my Harmony remote so that any listening and viewing activity can be automated via pressing one menu selection. Oh yes, and have a pleasing visual impact. Which leads us to...

The lack of IR codes for selecting specific inputs -

The IR codes are for "next input" and "previous input". What this means is that if you have a 3rd party remote such as a Harmony, you will not be able to automate selecting the appropriate input. For those of you who don't care about this, you can skip my "solution". When I added the Motion Vision to the Harmony remote, buttons for selecting each of the inputs were also added. Sadly though, they were "show" buttons, meaning that they gave you the satisfying feeling of selecting the inputs, without the actual ability to do so. ;)

Solution -

Plug all of the sources into a remote controled 5 port HDMI switch, plug the output of the switch into an audio de-embedder, plug the audio output from the de-embedder into the Motion Vision and plug the video output from the de-embedder into the TV. The Harmony remote now controls the switch as desired and any of your normal listening and viewing functions can be programmed on the remote.

$100 later -

The switch was about $40 and the de-embedder was about $60. This also leaves two HDMI ports for future expansion. I bought a Kinivo switch and a KanexPro de-embedder and both do what they are supposed to do. Other brands are available.

Even with the additional $100, I'm totally satisfied with the value/dollar ratio. So far, everyone who has listened to it is impressed and everyone who has seen it is impressed.


---
by BoomNastyHockey, 10 months ago






Soundbar Does Not Do It Justice.
The ML Vision Soundbar is astonishing with its audio reproduction, and even its movie audio processing. It should be in a category all its own. Deep bass, even without connecting a Dynamo through the Vision's built in wireless sub connection, and its rich audio reproduction will take all your favorite hits and make you feel front row.

Thank you Martin Logan,

Will


---
by jmon012, 10 months ago






Back to the Future
In the 70's and 80's, I used to visit high end independent audio stores with my father. He was an audiophile without the checkbook necessary to truly indulge, but I remember Martin Logan from those trips to the store and those gorgeous electrostatic loudspeakers.

I hadn't even thought of Martin Logan until I heard this beautiful sound (if that's even possible at Best Buy) emanating from below a huge plasma screen TV. I've been searching for a sound bar to ale my woes of listening to the built-ins of my HDTV. The sound bar needed to be minimal, so that my lovely wife wouldn't mind the not-so-lovely looks of one more piece of electronic equipment in the house.

Despite knowing better, I've stuck with Bose for my audio needs for more than 20 years. Unfortunately, I thought their sound bar was too synthetic in sound quality, over-engineered, and I really did not want to deal with a subwoofer taking up floor space, so I decided to try the Motion Vision. I can say, even after only six hours of ownership, that I made the right choice.

The Motion Vision has astounding audio reproduction and has filled my living room with warmth and joy. I don't miss the subwoofer at all, as the bass is absolutely breathtaking from this unit. I can finally hear dialogue from my movies and I even took some time to watch a concert on Palladia, and it sounded great! The design is elegant, organic, and quite simply, the best sound bar I have found. For those looking for amazing sound reproduction, without the hassle of a high-end 5.1 or 7.1 system, this unit does more than take care of business.

Thank you, Martin Logan for taking me back in time.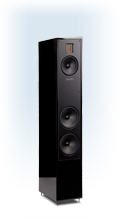 Motion 40
Powerful floorstanding speaker with a Folded Motion™ tweeter, black aluminum mid-range & dual woofers with rear-firing bass port, and a luscious high-gloss piano black finish.
---
by John C., 4 months ago
1 of 1 people found this helpful






Incredible Sound
I went to BestBuy to find floor speakers that I could pair with a new Sony Bravia 55" TV...and use for listening to music as well. I didn't want to set up surround sound - just 2 channel. The sales person recommended the Martin Logan Motion 20's or 40's. After listening to both speaker set ups for music and a blueray movie I selected the 40's. I couldn't be happier with the performance for both listening to music and watching movies. The clarity, sound reproduction, and full sound stage are unsurpassed by any speakers anywhere near the price range. Highly recommend these speakers...they are amazing!!


---
by Pedro J., 5 months ago
0 of 1 people found this helpful






Amazing Speakers
I haven't had heard any speakers as these before. The bass is incredible and the twitter marvellous so the quality of the sound is amazing. I congratulate ML for this piece of technology and art. After I hooked the Motion 40 to my Hi-Fi set (HK 990/HD 990/JBL E250P), my house filled with a profound sound and I jumped to another listening dimension. I'm not kidding; try them in your Hi-FI dealer and discover it by yourself.


---
by iReval, 2 months ago






Just Bliss
Hello!
I walked in to my non-local Magnolia Theatre set with a mind that id be buying speakers finally after two years of looking. I was set on Klipsch RF-82 I had heard them and spent enough time with them to almost be married.

Here comes the twist! As my personal Magnolia Designer asked me "Have you ever heard of Martin Logan?" I said "Have I!" I'd love to get me a pair but I'm sure their pricy. So as I started listening to Chopin and Pavaroti on these beautiful delicate and finesse sounding but deep and crisp speakers; I asked for he price. I was amazed. They were definitely higher then that of the Klipsch however their reasons for being did not leave me with any doubt!

So I bought them! With an accompanying Motion 30 center and four Motion 15 to compliment the surround. Since I already had a Dynamo! There was nothing else to complete!


I've had the system for 24 hours and I can't stop saying this I love them!

Yet theres only one bad thing I can actually complain about. Not Martin Logan's fault or maybe, but finding mounting brackets for the Motion 15's has been horrible due to the thread and size of 3/18-16 with the weight of 12 pounds.

Overall though. Beautiful, elegant, sincere sound. I have my Chopin and Pavaroti giving a concert in my theatre now nightly.


Thank you Martin Logan!

-B


---
by tomtjp, 6 months ago






WOW
I own a pair of ML Motion 40's and have been breaking them in for the past 2 weeks. I tested them on both Music and HT...my room is 24x24 9'ceiling. I am amazed how how effortlessly and relaxed the sound fills my room from my Onkyo TX SR 805. The sound stage is large, clean and un-colored. I hear thing I never heard before from my old music collection. I just love these Piano Black Beauties and the smile it puts on my face.
Oh...they pass the spouse test too...catch her cranking em when I get home from work...well worth the price!!!


---
by Z93indy, 9 months ago






Great Sound
Crystal clear sound from all around. Makes a 5.1 System sound even better than most.


---
by Pardhip S, 10 months ago






Exquisite Sound
I originally came into my local Best Buy Magnolia HiFi center to listen to another pair of speakers. These little gems were not even on my radar. The look of the speakers lead me to believe they were several times more expensive than what the actually price was. A beautiful piano gloss black finish and speaker grills that dictate there is something sinister underneath. Needless to say I was shocked when these were fired up and played sound that was just amazing. I did not believe that the bass response from these and even looked for a subwoofer that my have been on at that time, but these little gems were the only speakers playing. The Highs, Mids, and Lows from this speaker seem to defy what should be allowed to be produced from a loud speaker this size and at this price point. I took them home and now am a proud owner of a pay of ML Motion 40. They complement my system well and I still cannot stop staring at these beautiful works of art. Amazing accurate bass, solid Mids, and High frequency response that will amaze you, all from one sexy package.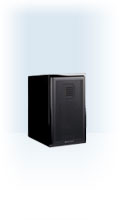 Motion 15
Bookshelf speaker with a Folded Motion™ tweeter and luscious high-gloss finishes. Voice-matched with MartinLogan ESL speakers.
---
by Dan Zimmerman, 6 months ago
1 of 1 people found this helpful






So, Big Things Really do come in Small Packages.
The first time I heard these speakers I was surprised. When I had entered the room the gentleman was comparing them to a pair of Ethos Electrostats. I have heard electrostatic speakers many times and I can't begin to explain how great they sound. Just as I was sitting down he switched the Ethos' on. I was shocked! I thought I had been listening to those the whole time.... I asked If he could switch back to the Motion 15. When he did I couldn't believe the sound that was coming out of those small bookshelf speakers.
They carry on the high qualities that has come to be a standard of Martin Logan. These give a large sound from such a small footprint and the stereo imaging is stellar.

If you are in the market for a bookshelf speaker the Motion 15 delivers exceptional performance and a beautiful design that far exceeds the price tag... You will not be disappointed.


---
by iReval, 2 months ago






Invisible Sound
I've had the Motion 15 for about a month now. Amazing speakers and very immersive with the correct setup.

I ended up having a hard time looking for mounts for these speakers hence the 3/18-16" thread on the back. If anyone else is looking to have the speakers mounted do not be confused. Vantage Point Sells these mounts, however the size provided says 3/8-16" which in fact is correct and does work. "http://www.thinkvp.com/products1643/BookshelfSpeakerMountsPair"

Above are the correct mounts for these beautiful speakers!

Also, i used an amazing service "nextdaytechs.com" They as well had the patience to mount all 4 of my speakers as well as hide cables and make sure the angle of each Motion 15 was flawless.


These speakers are paired with 2 Motion 40 and one Center Motion 30.
The sound is amazing and the clarity is flawless. I chose these beautiful speakers over B&W and Klipsch.

I hope this Helps!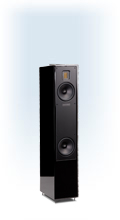 Motion 20
Compact floorstanding speaker with a Folded Motion™ tweeter, dual black aluminum woofers with rear-firing bass port, and a luscious high-gloss piano black finish.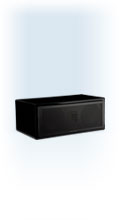 Motion 30
Powerful center channel speaker with a Folded Motion™ tweeter, high-gloss piano-black finish and subtle angled top. Voice-matched with MartinLogan ESL speakers.
Motion SLM
The slender Motion SLM speakers features an advanced resolution Folded Motion™ tweeter, two 4-inch high-excursion fiber cone woofers and two passive bass radiators for maximum controlled low-end bass extension - all in an ultra-slim profile designed expressly for super-thin TVs.
---
by TJP, 6 months ago






AMAZING
I just purchased a pair of Motion 40 and the SLM as my center.
The blending of the SLM with the Motion 40 are absolutely seamless! The sound stage, the timber, the imaging are simply wonderful! I sit and listen to music and say WOW to myself to thing I never heard before in my old music. Its been 2 weeks now and the longer I listen to them the more I just love em!!!
I highly recommend these beautiful gloss black babies!!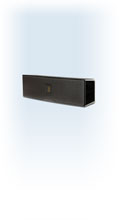 Motion 8
Powerful compact center channel speaker with a Folded Motion™ tweeter and on-wall mounting versatility. Voice-matched with MartinLogan ESL speakers.
---
by Z93indy, 9 months ago






Clear Voice
Crystal clear voice sounds from center location.
Makes people voice sounds like in your room.


---
by D'an, 1 year ago






Makes you want to view Blu-ray movies again and again!
The Motion 8 sure makes the movies much more interesting and exciting to watch. The sound is crisp and clear which makes you want to watch Blu-ray movies over and over again. The unit was very easy to mount on wall and the black piano finish is especially elegant. A very good price for beautiful style and quality sound!


---
by jcortez, 2 years ago






bueno
en cantado del sonido no hay nada mejor que estas bocinas.

Translation: "There is no better than these speakers!"


---
by Bubba, 3 years ago






LCD TV Audio Blues
We recently purchased a new Samsung HD LED TV. When we got it home and turned it on the whole family thought we had experienced hearing loss. I called the technician to come and replace the sound board. No improvement. Technician advised that most new ultra thin TV's fall way short on audio quality and he recommended we find a home theater system. After spending close to 2k i was a little frustrated however knowing a little about the physics of sound reproduction, it only made sense that we would need to supplement our new entertainment system.

I went to a local retailer, who after carefully asking what my challenges were and what I wanted to accomplish he directed me to the MartinLogan line of drivers. Bookshelf, electrostatic, ported and center channel options. I know sound is a very subjective decision, however I believe that the Motion 8 outperform all other options available at any price. we love the design, ease of setup but most of all the sound.

As soon as my wife will let me I will be adding the ESL Vantage.

Thank Martin Logan... Great Work.. Great Innovation!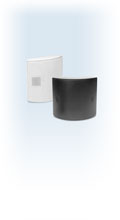 Motion FX
Dedicated wide dispersion surround speaker with dual Folded Motion™ tweeters and Folded Motion Cascading Bass-Reflex Port for deep, detailed bass response. Voice-matched with MartinLogan ESL speakers.
---
by Nikguy, 2 years ago






WOW!
This is about Motion FX & Center Motion 8:

My Boston center channeled died I went to Magnolia store to check out Def Tech. I ended up testing Def Tech, ML Motion 8 and Mirage. I also listened to the B&W which were equal to (in my mind ) to the Motions. But the B&W's were twice the price too deep in size and not in my budget. But I don't think I gave up anything by getting the Motion 8 and FX. The Def tech was the closest to the Motion 8 center ch but the Def's was more brittle and directional, but worthy. The Motion 8 had a clear chrisp warmth and great spacial presense. I then decide to re-set my surround speakers with my DB meter, they are Boston ProVRS, and decided they did not fit with the motion 8 center ch.

So I decide to order the Motion FX (without audition) for surrounds. They are up now (great mounting system)set to the same levels and WOW. My movies are now giving me a new visual audio presense, on movies like Stargate and the new StarTrek the difference is unbelivable.

They have truly partnered with Mcintosh MX136,MC207 and Kef1072 front speaks to give me a audio/visual boost that I did not expect. I am now a MartinLogan Fan. You must listen to them, moderate price for what you get. Please note B&W , Def techs and Mirage are great speakers let your ears and a good BD meter help you decided, louder is not better. I hope Magnolia put the FX's in their store for audtioning.

NIKGUY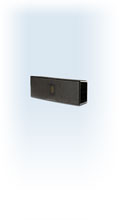 Motion 6
Compact center channel speaker with a Folded Motion™ tweeter and on-wall mounting versatility. Voice-matched with MartinLogan ESL speakers.
---
by King F., 3 years ago
1 of 1 people found this helpful






Motion 6 and EF's
About a month ago I bought a Motion 6 to replace and old Yamaha center channel. I liked the improvement in clarity so much when I saw the Encore EF's on sale I bought 2 to use as my right and left main speakers. The sound improvement was dramatic. This is a relatively inexpensive way to achieve really nice sound. I'm driving the speakers with a Pioneer VSX 1017 THX receiver.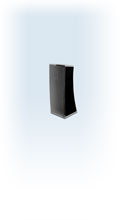 Motion 4
Powerful compact bookshelf speaker with a Folded Motion™ tweeter and Folded Motion Cascading Bass-Reflex Port for deeper bass response. Voice-matched with MartinLogan ESL speakers.
---
by TNtrucker, 1 month ago
1 of 1 people found this helpful






Morion 4s as center channel
After 8 years of trying, I finally solved HT center channel intelligibility issues by using a pair of Motion 4s, angled outboard slightly (~15deg.) and down about 20 degrees. Wired in series to avoid low impedance. Speakers are above TV screen, vertical, with tweeters above mid/bass drivers. With a 15 foot wide HT and 14 foot setback, this provides the wide, uniform dispersion I needed, and the dialog clarity is excellent. Measuring +- 1.5 db across 4 chairs in the front row - 15 feet across!! Driving with Marantz separates @ 140 watts. Calibrated with AudysseyXT for level, delay and equalization.

I auditioned the Motion 4s at home as a stereo pair before installing in my HT, and found them to produce excellent clarity, and impressive mid-bass for their size.

Thanks for a fine American product.

TNtrucker




---
by David Leva, 2 years ago
1 of 1 people found this helpful






THEY MAKE ME SMILE
I have about 2,000 Grateful Dead shows on cds and 2,000 non-Dead shows as well. I listen to cd's, vinyl, Pandora and pretty much anything, pretty much all of the time. Thinking that it as time to start updating my system. I was not sure where to start until I walked into a Best Buy and the young salesman was playing with the Motion 2s and 4s he had just installed and the fullness and clarity of the sound MADE ME SMILE. Now, even though they are powered by a very old but still good amp, they sound great. I turn up the volume, sit back and enjoy.


---
by john S., 2 years ago
1 of 1 people found this helpful






Awesome
I purchased Motion 4's and a Dynamo 500 for my new media room. I hooked them to a Samsung 46" LED and Yamaha RX-A700. I have received truly awesome results. The sound is crystal-clear, with resounding (but not over-powering) Bass. After a few moments listening to a well-listened-to CD almost made me questioned if I had ever really heard it before.

Actually, it was my wife who selected them as she was MOST impressed (specifically, she could detect clear separation of sounds - unlike with Bose). Previously, we had - over the years - several Bose systems. highly recommend the Martin-Logans. I would never consider purchasing any other sound system.



---
by Nikguy, 2 years ago
1 of 1 people found this helpful






Bedroom now in motion
My recent purchases of a center channel Motion 8 and rear channel Motion FX's were in line with listening to the Motion 4's at the Magnolia store. Not a great listening place however equal to all speakers in the room. I decide to update my bedroom speakers and fell in love with the Motion 4's sleek design and clean sound testing the usual victims of speakers.

Bought them and are now enjoying another set ML speakers. In the bedroom they are great in a theater system a sub would be needed to fill the impact.

Sonically female voices seem octivally pure, sibilant sounds are very well controlled, treble and bass are clean and inviting not boomy or brittle. On the Stones, Pink Floyd, Vavaldi and Bach they seem to hit my mark as in a 10 class. I'm not normally a person who writes stuff but but...felt a need to share.


---
by dreammaker, 2 years ago
1 of 1 people found this helpful






Even With An Old Amp
I hooked up the new Motion 4's to my ancient Kenwood amp. The amp still specs and sounds great but not like the new ones used to power the speakers in the showroom. I expected some improvement over my old ROCK SOLIDS but not what I got. The clarity is amazing. I can hear the pick hit the guitar strings and the wooden drum sticks against the skins. The speed is excellent, also. The instruments are sharp, not fading in and out. I can not wait to complete my surround sound system.


---
by Craig T., 2 years ago
1 of 1 people found this helpful






Impressive
I just purchased the Motion 4s to replace my old bookshelf speakers in my office. The difference is incredible! I still have the old speakers hooked up and am constantly comparing the Motion 4s to the old speakers. I love hearing the difference in clarity and liveliness. I also purchased a Dynamo 500 subwoofer. The combination of the Motion 4s and the sub is perfect. Everyone at the office is commenting on the range of sound that we are hearing from the system - especially on the low-end. We're hearing sounds that we haven't heard before. Thank you!


---
by Craig R, 2 years ago
1 of 1 people found this helpful






Excellent Sound From A Little Package!
After listening to several speakers in this price range, I kept going back to the Motion 4 speakers. These speakers far surpass the competition. The clarity is incredible. A must buy.


---
by BLWJ, 3 years ago
1 of 1 people found this helpful






Match for Motion 12
Thes speakers are amazing. I took the advice from the home theater store and Martin Logan. Both were right on their suggestion.


---
by slgarris, 3 years ago
1 of 1 people found this helpful






Excellent Monitor
These speakers soar with about every type of music you throw at them. THe detail of the mids and highs are phenomenal, and when mounted on the wall the bass is very ample. These have to be my best value speaker purchase in the last 7 years.


---
by Mark B., 3 years ago
1 of 1 people found this helpful






Accurate Sound
These speakers deliver tremendous accuracy, clarity, balance and presence. Sounds like the music is being played right in front of you live!.Highs are distinct and sharp with wonderful mids. I suggest you use these with a sub woofer to balance them out, as they lack any bottom, as an excellent speaker of this kind will. Can't really have it all in one speaker without sacrificing somewhere.Well worth the investment. Great for space limited areas as well!


---
by Justo C., 3 years ago
1 of 1 people found this helpful






Outstanding bookshelf speakers
These Martin Logan bookshelf speakers are the first ones that I have purchased. I've always heard the name but never did I think that they sold bookshelf speakers.

I've owned high end speakers for a number of years. Recently, I purchased Definitive Technology speakers for my home cinema. When I needed to downsize the speakers I've had for 30 years at my second house, I looked for Definitive Technology again but after reading some reviews, I decided to listen to these speakers. The music that came out of these speakers were astounding! It had crisp highs and the mid-levels were quite good. I listen to jazz and rock and roll with the occasional classical music.

I really expected a drop in realistic music reproduction especially after owning the 30 year old speakers but I was modestly surprised with the sound.
Needless to say, I'm very happy with my purchase, so is my wife, who had been hinting that I should get rid of those "big ugly things" in the music room. She actually smiled when she saw the replacement speakers. She loved the sound that came out of them, too. She plans to read in that room with soft music playing in the background.



---
by adachautal, 2 years ago
0 of 1 people found this helpful






Motion 4
I must say that Motion 4 are simply best speakers. Well packed. Perfect top end, mid range and bass. Very sweet top end. I am really happy with the product.

Best Luck for future products like this.




---
by Terrell M., 4 months ago






MartinLogan Motion 4 speakers
Replaced some old Norman Lab Mini towers on my Mac. Great sound at a great price. Thank you.


---
by Z93indy, 9 months ago






Great Sounds for back
Clear sounds and great volumne for rear type speakers. Crystal clear


---
by sounddude, 12 months ago






best wall mounts out!!
I bought the motion 4 as my first pair of martin logan speakers. Wow i am amazed at the sound of the little guys. I am saving to get the new motion 40s next. Thanks martin logan!!


---
by Kingshead88, 2 years ago






My Home Theater
My Home Theater makeover includes (4) Motion 4 speaker's for suround, (1) Motion 8 for a front center channel and a Dynamo 700 for that extra thump. Christmas came early for me, and I was able to upgraded my 15 year old JBL Arc Titanium speakers that are now out in the kids room. The sound is clear and the wife does'nt ask me to turn it down as much. I have this all running through a Onkyo TX-NR709: 7.2 THX network reciver, 130 watts per channel, and 3D ready. I plan to add two more and upgrade from 5.1 in the future. I had the the speakers installed in less than 2 hours. The reciver had no issues when it came time to articlte the 5.1 surround sound making for perfect sound to the ear. I then sat down put in Captian Amercia 3D cranked up the volume and enjoyed. I have been looking to upgrade my speakers for years, and for the money the Motion series speakers deliver the goods. I would reccomend anyone who can't afford to go all out to take look at the Motion series speakers.


---
by mss, 2 years ago






Motion 2,4,8 & Dynamo 500 Surround Sound System
Motion 8 center, Motion 4 fronts, Motion 2 rears, Dynamo 5000 subwoofer - Yamamha RX series receiver with >100W per channel. Fantastic audio quality especially at higher volumes. The high frequency clarity at all levels is superior to any similarly priced systems I have ever heard. The bass richness & depth really comes alive at mid to high volumes, like a turbo kicks in at a specific volume. I like the unique styling and build quality. Nice attention to detail with supplied accessories / connectors. They are 4 ohm impedance, so need >100W per channel from a trypical 8 ohm receiver output to drive them to their optimum level. A great choice for a small to medium sized room.


---
by DEW IT, 2 years ago






MartinLogan Rocks!
Amazing sound by these small but mighty speakers. The folded ribbon technology caught my ear. I am a big fan of clean, crisp highs. This two way speaker can also put out some impressive bass. Response is impressive at 70-25,000 Hz. However; to add even more depth, I bought a Martin Logan Dynamo sub woofer. The combination is incredible! Perfect solution for your bedroom to a nice size den or basement. I am running them through a pre HDMI JVC flagship receiver. My endeavor is to build a system for audio quality. It's a great start. Soon going to add a pair of ML Purity speakers and use the Motion 4's for the rear. Very happy with the quality for the price. Just DEW it and go out and listen to them...you will be impressed!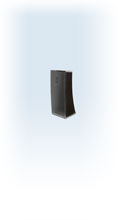 Motion 2
Compact bookshelf speaker with a Folded Motion™ tweeter. Voice-matched with MartinLogan ESL speakers.
---
by AudioNut, 8 months ago
0 of 1 people found this helpful






Best Speakers for a budget
I bought these about a year ago after getting some extra cash for being stuck at work 48 hours straight. I have them hooked up to a Sony receiver that i bought at Walmart when i had an apartment. Saying that these speakers sound amazing. I fell in love with them at best buy and bought two of these along with 2 of the motion 4. I love watching movies and hearing the sound they produce. They are not bright and have a nice warm sound. I play everything from Rock to blues and Rap. I know once I get a better receiver they will come alive. Looking at maybe a Yamaha or marantz since they are in my price range which is 300-600 bucks. Then all I need is the subwoofer and center channel to complete the best sound ever.


---
by ecyfoto, 2 years ago






Right out of the box
I bought two of these little guys to replace half a dozen Orbs. I decided to revert to a stereo set up and bail on surround sound. Call me old school. Audio has always been about music for me and multi channel reproduction has never swayed me.... at least within my fiscal reality. They are mated with a Sunfire Junior sub. Maybe it's because all three speakers are sealed enclosures that the integration seems close to perfect. They are "speed" matched.
Quite a system that performs way above any expectations at this price level. I'm presently listening to the Phillip Glass' soundtrack to the film "The Hours". Strings and piano sound very airy and detailed. Other speakers in this range have a more smeared sound. They do like to be played with some volume to coax the best out of them. Can't wait for them to break in and see what happens to an already decent sound stage. Overall a fantastic bang for your buck when paired with a quality sub.


---
by Pinakin P., 2 years ago






Amazing sound quality
Very pleased with system. It is great. Very easy to set up and all accesseries included needed for wall mount. My friend came in to check it out and he went to store to get one. Outstanding!!