CLX: 25th Anniversary
DISCONTINUED
Launched in 2008
---
Price when discontinued: $25,000 per pair
---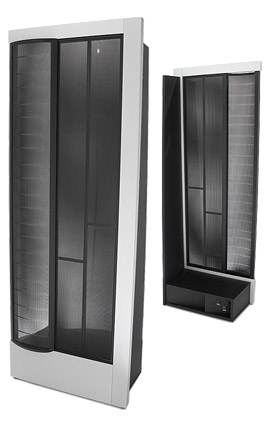 Clear Anodized Solid Billet Aluminum
CLX: 25th Anniversary
---
The World's Finest Full-Range Electrostatic Line Source Loudspeaker
The CLX delivers the truth – the culmination of everything we have learned about electrostatic technology since we brought our first product to market in 1983. Purity of sound permeates your entire room and satisfies even the most critical ear. The new industry benchmark for resolving detail, CLX utilizes dual electrostatic transducers to render the most complex musical passages as faithfully as a crystal prism disperses the full color spectrum. This is the limitless spectrum of the CLX – the absolute truth in musical reproduction.
Choose a Finish
---
Billet Aluminum Frame


Quantities are limited. Please check with MartinLogan for availability.