$4,995 per pair

Quick specs:
44" x 9.2" XStat™ CLS™ Transducer
8-inch Aluminum-Cone Woofer
Precision Built Vojtko™ Filter
Bi-wirable Tool-less Binding Post
Professional Reviews

"For $5,000/pr there are a lot of great speaker options on the market, but none quite like the Theos. The look of the speakers screams "high end" and they are sure to amaze anyone who has never seen an ESL speaker."

"The speed and transparency that their electrostatic panel seemed to offer compared to a conventional box speaker was always enchanting, and unlike many other speakers of similar designs, they played well without a massive amplifier and with rock and roll music."
Customer Reviews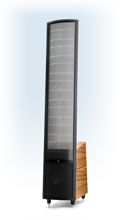 Theos
Unflinchingly accurate XStat™ electrostatic technology.
---
by Canada Cat, 4 months ago






If music is important to you
I wanted a long term purchase from an established company in reputation and quality. I owned the British Quad electrostatics for a decade and wanted the replacement to be comfortably better at a price I could afford. The Theos surpass the Quad in all but bass to mid range transition. The Theos has deeper and more prominent bass. The imaging is bigger, more forward, sweet spot larger and music ultimately louder and more dynamic. The human voice and acoustic instruments such as piano, violin and clarinet are superb. The construction and finish is top class, the panels safe and easy to clean. This is a wonderful speaker for jazz, blues, classical, pop, soft rock, country and easy listening music. Those who love hard driving rock music must listen before buying. This is a long term, prestige purchase and I bought the extended warranty.

My associate equipment: Marantz PM 15S2 integrated amplifier, Marantz SA 15S2 cd/sacd player, Rega 3 turntable, Shure M97xE phono cartridge.


---
by Dman, 1 year ago






I can't complain
Theos - Front mains
Stage - Center
Depthi - Sub

Denon: 4810CI receiver
Amp: 300w Acurus into 4ohm
Surrounds: Klipsch SS1

I purchased the sub last year, the front mains and center this year.

If the world ends on 12.21.12, I'll die a happy man! I fulfilled a dream I've had since the early 90's when I heard my first pair of ML's in Detroit.

I'm rediscovering some of my music all over again with the clarity and presence like I'm sure it was meant to be heard from the original recordings.

I wish I could have afforded the Summit X's but with the sub, these fit very nicely in the alloted space.


---
by Evan H., 1 year ago






Theos
My father runs a Audio/ Video retail shop in our town and I have had the opertunity to listen to a lot of great systems throughout my years. I'm an A/V installer and I get excited about great sound. In all my 14 years of experience I have never been so excited about a product. I started researching Martin Logan and could not stay away from there unique build design and characteristics. I had to have a pair. Enough about me. Let's talk about these great speakers. I have them setup in my home as a 2 ch system. I have a funky room with hardwood and vaulted ceilings and my Theos do a great job imaging . Picture yourself sitting in your living room enjoying Ray Lamontane as if you were hearing him live. They have such a open sound stage. They are very dynamic. And oh yeah like look like a work of art. I love my Theos Xstats.


---
by Howard B., 1 year ago






Outstanding Presence
Out of the box sound is excellent.

Good bass, very clear mid and highs.

Biggest surprise is the presence. It sounds (and feels) like the musicians are IN my living room, not making sounds that come out of my stereo.

Wonderful speakers Martin/Logan. Bravo!


---
by Bruce, 2 years ago






Theos rocks
Just got a pair and can only rave about how they look and sound. I cannot give any detailed review yet but
can share a few out of the box observations.

I am no professional audiophile reviewer but will add my two cents about these speakers.

I have played them on a Marantz receiver and hooked them up to my Krell pre pro.
If you own a receiver forget about getting the best out of these speakers. They sound dead.
If you hook up an amp that can distribute some power to them they will out perform any speaker of double the price from other brands.

I chose the Theos in front of the Ethos because with these I will have more options with bass so long as I keep providing the speakers more power.
I also already have a sub-woofer so the Ethos was not necessary.
That being said, I am quite surprised how good the bass is. The Theos seems to have more bass than the pair of Vista's that I auditioned. I am not sure if my room has more to do with the improved bass than any advancement from Martin Logan in the speaker design over the Vista model. The fact that the cabinet has changed and that the bass port is under the speaker instead of the rear may have a lot to do with the improved bass.
The bass is now tighter than with the Vista and the lower crossover frequency of 425Hz improves the phasing from panel to woofer.
I plan to bi amp the Theos soon and see how much better the bass can get.

The panel is gorgeous large but doesn't take up space. Provides a larger sweet spot than the smaller panels and offers us what Martin Logan do oh so well.

Now the Vista that I seem to be trashing was a wonderful and highly regarded speaker with multiple awards and rave reviews. I just think the ML has given us even better this time.

Thank you Martin Logan. Your speakers continue to rock.





---
by pym, 2 years ago






Theos
i changed my Eon for the new Theos

it a very great experience by far a better sound