Starting at $25,495 per pair

Quick specs:
Full-Range Electrostatic Line Source
57" x 8.6" XStat™ CLS™ Transducer
57" x 11.5" DualForce™ Bass Transducer
Frequency Range: 56-23k Hz ±3dB

Professional Reviews
MartinLogan CLX Electrostatic Loudspeakers Reviewed
CLX's are everything I could've hoped for and more. They exceeded my aural expectations in ways I was prepared for having owned the older CLS'. These are not an update, no sir, the CLX are a whole new animal, one that if you're lucky enough to let them out of the cage, will astound you with their sonic beauty and grace but be able to maul you with their bass. Seriously, I can think of no other speaker I'd rather own right now than the CLX's

—Andrew Robinson, Home Theater Review
Read the full review »
Martin Logan's new CLX From Hi-Fi World
...what Martin Logan have achieved with the CLX is impressive; they are a near perfect exponent of the art. Technically and subjectively their tonal balance is convincing, sound from the Mylar film is unobstructed by the stators for unrivalled insight, detail retrieval and clarity, bass power is plentiful and maximum volume very high..A meticulously crafted electrostatic that's free from traditional limitations, this is one of the very best loudspeakers money can buy.

Hi-Fi World
Read the full review »
The Speaker They Said They'd Never Build
It's this sense of completeness, the way that everything you get is presented as part of a single, coherent and contiguous whole that makes the CLXs so special; that and the fact that they do so without reducing the music, the musicians or their range of colours

—Roy Gregory, Absolute Sound
Read the full review »
Girls, Shoes and Speakers
The extra level of resolution provided by the CLX brings you so much closer to the music, providing an immersive field of sound that takes you somewhere special.

—Jeff Dorgay, Tone Audio
Read the full review »
Customer Reviews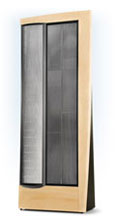 CLX art
CLX art is the world's finest full-range electrostatic line source loudspeaker. 57-Inch CLS™ XStat™ electrostatic transducer and 57-Inch DualForce™ double diaphragm, triple stator low-frequency electrostatic transducer with dipole phase stabilization for deep, natural bass.
---
by GW1800, 5 months ago






Best Sound Yet!
My initial ML system included Summit X's and two Descent i's back in 2011. I really liked that system and just fell in love with how good the sound was particularly vocals. The quickness and the detail is just remarkable. After doing some tweaking to my electronics and interconnects I was itching to further improve if it was possible. I contemplated a better SACD player, amps etc. but my dealer from DaVinci Media suggested to really make a significant move I needed to upgrade to the CLX's. He has always been honest with his suggestions but this one did make me pause as the extra investment was substantial. After thinking about it I took his advice and could not be happier(moved the Summit X's and Descent i's to start my upgrade of my Media room). Actually after purchasing the CLX's I have upgraded everything including the subs over the past couple of years. My electronics, interconnects, grounding, DAC etc. have all been replaced and these speakers make it easy to hear all the changes. Lately working on adding more acoustical tiles with great results. What I'm getting at is these speakers seem to have no limit and will reward you as you keep refining your system. Also like most of you I do not have an ideal room or distance from the front wall. Maybe someday I will and when that day does come I fully expect even better results.

Specifically owning a CLX pair what can you expect? Its like the difference of hearing a recording and being there it's that dramatic. Its really hard to put into words the depth, width, height and placement of instruments and singers is just terrific. I think with the CLX being virtually a full range speaker also helps in that you get a lot of the benefits of the electrostatic design sonically over a much wider frequency compared to a hybrid. I still like the subs to help round out the very low bottom. The 212 subs with the custom crossover really integrates well with the CLX and at no time can you point them out listening to music. Go listen to a set of CLX's, trust your ears and I think you will come to the same conclusion that I have!

Associated Equipment: Aurender N10 Music Server, Bricasti M1 SE DAC, Bricasti M28 Mono amps and various Nordost interconnects and power all Vahalla V2 or Odin2. Other Nosdost products include 2-QX4, 5-QV2, 5-QK1, QB8, TC Sort Kones under QK4's, QB8, Aurender N10, QKore 6 - Sort Fut under CLX, 212's, Rack, QB8 and Qkore. Also latest QKore 6 grounding.


---
by rower30, 4 years ago






CLX art exceed expectations.
How did I end up with CLX art speakers? Well, I am a cable development engineer for Belden, and in the process of working with cable designs I used a Martin Logan SUMMIT-X in those trials, as well as my own speakers. The SUMMIT-X speakers were a friends, who just happens to work for Martin Logan. So that sets the stage for hearing Martin Logan products for the first time.

The problem was the extended development cycle of the cables, and with the changes in sound so readily apparent on his summit-X speakers. So much so, that his system "broke" mine! I had to leave my system alone for a few days till my brain forgot the fantastic detail and realism of those SUMMIT-X transducers. I never really though I was an electrostatic guy, and all the rumors about issues with these exotic bread of speakers.

I eventually said, if you EVER sell those speakers, call me! He didn't, but said to buy the even better CLX-art versions. I did, and now there is no going back to dynamic drivers anywhere in the near future.

For a dynamic driver person (or I thought I was) the first electrostatic experience is almost a "confrontation" of your expectations of what a stereo sounds like. It should sound like expertly REPRODUCED sound. The SUMMIT-X and CLX-art DO NOT sound like that as they are much closer to REAL MUSIC!

This can REALLY, REALLY mess with your head as you need to change what the musical expectations are. The CLX art are moving things to a totally different presentation.

OK, first things first for the dynamic driver crowd. No, the CLX art won't give the DYNAMIC POP in the bass, but it is far from bad. And with subs, it is almost a non-issue. But yes, dynamic drivers can do the "hit" better if that's your thing. They also industrialize the sound and erase all the micro-dynamic detail up and down the frequency spectrum. Of course YOUR dynamic driver speakers don't...until you listen to a CLX art, anyway. Happened to me, that's for sure. Dynamic drivers are getting better, but DO NOT listen to a CLX art until you want to know what they leave on the table.

These CLX art speakers take some serious break-in time. Mine have maybe 50 hours on them, and have improved markedly in richness. So be patient with a set that's new. Every hi-end speaker I've owned, Vandersteen Quatro's, Dynaudio C4's ETC has been like this, they are STILL dampened mechanical devices.

After many hours I finally REALLY listened to them. I stuck a Hans Thesessink and best of Peter Paul and Mary CD in and melted into my seat. This can't really be a review because I can't seriously explain how RIGHT these speakers "get it" through their frequency range. The fluid, visceral, liquid nature of voices is almost unsettlingly real. Higher frequencies are also so right. The energy in a cymbal isn't stuffed into a single hissing band I'm used to hearing, but extends up and down the frequency range in a fantastic balance that makes cymbals finally sound like cymbals.

Expansive vocal chorus presentations are immense in size, to the nature of the musical event, and specific detail right down to every individual head in the choir. I've heard expansiveness before, but NOT the incredible detail and resolution.

CLX art speakers simply seem to make music "appear" and not be "produced". Their micro dynamics are so incredibly delicate a butterfly can be hard flitting about. Yes, you don't think of dynamic as delicate, but they can be both delicate and hugely rash (saxophone) as needed. There is absolutely NO harmonic overruns that aren't in the music. Those dynamic driver resonance sounds you used to think is music are GONE. I had to get over that.

I do indeed like deep bass, and I used a pair of 10" Velodyne DD10+ subs, and moved them to the CLX arts. They seem to work better than expected...and their smaller stereo pair size helps them be acceptably quick to better match the panels. What I wasn't expecting is the "sound" of the bass being so much more complex and resolving. If there are 100 words for snow, my old dynamic driver speakers got maybe 25% of the words across, the CLX arts? I'd say about
95% (they are still not fully broken in).

I listen to little rock, but Supertramp, NICKEL BACK and the like still puts it out on the CLX-art with subs.

The myths of electrostatic speakers have been busted in my mind. Imaging? I feared I'd get this detailed euphoric expanse of sound everyone references. Nope, the imaging is real life sized and precise in a HUGE box between and behind the speakers. There is so little mechanical resonance on the CLX art that the blackness and openness rides to infinity. The space around everything, not just the bass, midrange or treble, is utterly amazing. Box, what box? I detect ZERO electrostatic "halo" people also reference. You can make them brighter with position, but that's NOT a membrane resonance, it is energy distribution in the room. Hard to drive? My MOON W-8 barely gets warm runningvthem at 85dB average. My dynamic driver speakers got the W-8 HOT to the touch.

The ideal seating position isn't as bad as many claim in my room, which is a screwy room, a 40' long room with a "L" shaped end. One speaker is against the wall, the other in the open end of the "L". So each speaker is really in a different "room". Some toe-in and out of each speaker got the image placement correct and excellent sounding. Truth be told, NO speaker I've owned and used in this room has sounded good in all but one single spot. The CLX arts sound SO GOOD in THAT ideal spot you never want to leave it anyway! They are so good you don't want to accept less. My dynamic driver speakers never reach the perfection of the CLX art, so moving about doesn't really make them much worse. I'm not sure if that's a compliment to dynamic driver speakers, really.

It takes a few days to get used to dipole radiators, as everything seems backwards. They get louder as you move AWAY from the speaker. Speaker placement and toe in or out is also more room dependant to center the image. Throw away the 1/3 of the panel thing and LISTEN to the music! Get the speakers placed right so the midrange is centered, full, liquid and resolving. WHO CARES where the speakers are pointed. In my two different rooms "L" shaped mess mine are in, the speakers are a parallelogram. The right speaker by the wall is toed in. The left speaker in the open end of the "L" is toed in on the BASS panel side. So the hi-frequency panels are BOTH 62" from a front wall, with the BASS panels toed IN (right) and OUT (left) 3 inches. This places the imaging in a more center position with a full resolving sound. Yes, the room loads the speakers differently so be open minded to placement. Try stuff that's "wrong" in an ideal room. I'll keep tuning the placement but this odd ball looking set-up gets the job done.

The image placement is in the upper third of the panels in my room, and wonderfully expansive to the left and right and even beyond the speakers. Voices and images are "big" but to a life-size rendition. So huge they are not. Correct they are. You won't see Linda Rhonstadt's tonsils if you dig overly large imaging. And on the other hand, they aren't British in compressing the image into a tiny pinpoint of spatial precision, either.

The CLX art have pushed my expectations of musical "reproduction" to simply hearing the music. You just have to audition a set to understand this speaker, as it is so unlike anything else. I started out developing cables, and ended up buying new speakers!

Rating a speaker is very subjective so my criteria is it can't be 5 stars unless it does EVERYTHING, so I give 4 stars to the CLX arts by themselves. The CLX art lack that dynamic bass POP which is not the same thing as static frequency response where they do very well (I measured them), but dynamic accuracy in the bass. Yes, I have a few cuts that are nuts dynamic in the bass. They are good, but I need those two subs too open-up the low frequency dynamics. But you simply cannot get the rest of the sound without the CLX arts. They do SO much more right than wrong compared to any speaker I've listen to and yes, even the MAGICO's and FOCAL EM series.

So yes, there is a spot where they will excel to amazing standards for their price and you won't mind seating yourself there, either. It's not a head in a vise seat, but a relaxed livable position that is totally rewarding. If you need crocodile tears, put one in front of a set of CLX arts and bring a bucket!

Way to go Martin Logan.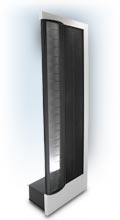 CLX: 25th Anniversary
The World's Finest Full-Range Electrostatic Line Source Loudspeaker.
---
by Desertlad, 8 years ago






Running In
I am still running in my new CLX's and previously ran a pair of Summit's. Another week will cover the 100 hour mark and I can already hear a big change to the warmth and depth of bass. Wow they produce an intense sound that is so much more alive and detailed with an energy and drive to the sound never before heard with the Summit's.

I am listening to them in a small room which is only 11 foot wide and 16 foot long and the speakers sit only eight inches off the side walls but about 3 feet from the rear wall. I was concerned that the bass response might be too strong with a large speaker in a small space but room interaction seems to be almost non existant. Although the speakers are fairly close together at 6 feet I am still able to get very good imaging but the sitting position is very critical.

I am running a Descent sub with the CLX as changing from the Summit's bass response to the CLX's was quite a contrast. I will see how well the sub works first before considering a possible upgrade to the Descent i. So far so good but I am missing about 15hz with the sub swithed to 40Hz. I will let you know how I get on after a few more weeks running in.

System:

Krell 505 CD/SACD
Krell KCT Pre amp
Krell FPB400cx Power amp
Cast Cables
Transparent Reference XL to speakers
Transparent Reference MM Power conditioner
Transparent Reference MM Powerlinks
Martin Logan Descent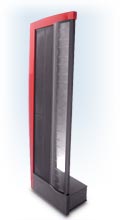 CLX
The World's Finest Full-Range Electrostatic Line Source Loudspeaker.
---
by Garth, 4 years ago






CLX with Descent i
I have had these speakers for some time serial # 44 and 45 never have had a problem with them.
Music wise they are great they still bring magic to music played I use them with the Descent i which I like with them. With good electronics they are hard to beat. I use Ayre mono blocks KXR and Ayre MXR pre amp then a Burmester 100 phono amp a Clear audio statement table a Tri-Planar arm then a Ortofon SPU Royal N. interconnects are Ayre signature series speaker wire is Cardas Clear. I also run a Ayre DX5 and Apple TV with Netflixs.

So they get a lot of hours never had a problem with them. They have taken a lot of playing power outages Lighting storms and still play dead quite .
The better the amps you use the better you will get for the price I think you would have to spend a lot more to get better sound. Barring defects in the clx if you are not getting great sound the problem is up stream. Thou they are not a easy speaker to set up they take awhile to find the right position a quarter inch can make a big change get help if you can.

This speaker is large no way around that but is far better looking in a room than a lot of large speakers. I feel the CLX is a great speaker long term a good deal. Hope this helps I have never regretted buying them.

Garth


---
by JMAUSGP, 7 years ago






CLX and Surround Sound
I don't think that the CLX is used in a multichannel system much. Yes as the front channels but all the way around. Oh, but what are you missing?

Quite simply, when the CLX is used in a multi-channel surround sound configuration and when it is fed high resolution discrete 5.1 source material such as SACD, DVD Audio, or Bluray audio, the experience is nothing short of mind blowing.

When sitting in the sweet spot, the music from well mixed surround sound such as Porcupine Tree, Elton John, Pink Floyd,Depeche Mode,The Beatles or anything from Steve Wilson, will absolutely amaze and astound you.

The CLX has the ability to extend the clear crisp fast sound that so many like from the upper registers, all the way down to the low end. It truly is like taking the CLS or Summit X for that matter and placing them on Steroids.

The CLX surround sound system is truly an E-ticket and would do well at Disney World, giving all patrons the sound experience of a lifetime.