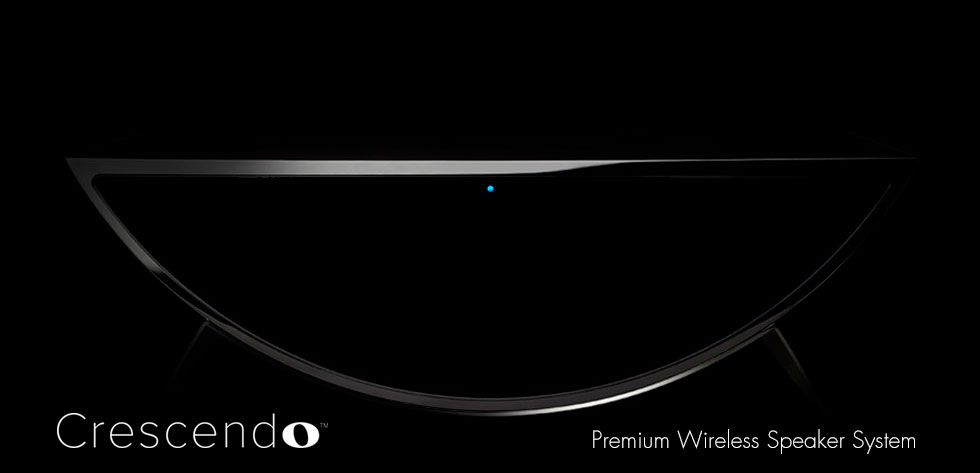 Firmware Updates
Model
Firmware File


(click to download)

Additional Description
Crescendo
Crescendo.fw
Rev 25 (Updated Mar-2014)
Instructions
Download the latest firmware file above.
Make sure you Crescendo is connected to your router (wireless or Ethernet connection).

To open Crescendo's webpage find the speaker's IP address and enter it in a web browser (we recommend Internet Explorer for this process). Please note, due to the complex nature of computer systems, operating systems, and router/network configurations it is impossible to document every scenario. For this reason we recommend the DIRECT ETHERNET CONNECTION below. The following three options are general information to help find your Crescendo on your network.

TEMPORARY DIRECT ETHERNET CONNECTION (recommended)
If you are having trouble finding the IP address for Crescendo when connecting through a router, we recommend connecting your computer directly to Crescendo by following these steps:

Turning off your computer's Wi-Fi.
Attach Crescendo directly to the computer using an Ethernet cable.
Turn Crescendo off and on using the Power button on the back of the speaker.
It may take additional time for your computer to establish an Ethernet connection with Crescendo. Once established, the Setup and Status LED on back of Crescendo will turn solid green.
Open a browser and enter "169.254.1.1" as the URL. Please note, this URL only works via a direct Ethernet connection between a computer and Crescendo. This URL is subject to change. If you are unable to access Crescendo's webpage from this URL, keep the Ethernet connection intact and try the methods outlined under "Windows" and "Macintosh" above to determine the Crescendo's IP address.




WINDOWS
(Exact process may vary depending on version of Windows---see Windows documentation): Using your start menu, choose "Network" or "My Computer > Network". Look for the Crescendo in the list of connected network "Media Devices". Right click the Crescendo and select "View device webpage".

MACINTOSH
To get a list of connected devices to your network from your Apple computer, you must log onto your router and view the connected devices. Please refer to your router's setup instructions on how to log in and view connected devices.

Crescendo's internal web-page should now be loaded in a web browser.
Press "Firmware Update" on the left of the webpage.
Press "Ok" button on the right side of the webpage. Crescendo will take 30 seconds to prepare for firmware update mode---the Wi-Fi Setup and Status LED on back of Crescendo will begin blinking red/red/green/green. Please make note of the current IP address listed in the web browser---if the web page does not automatically refresh you may need to re-enter the URL in your browser to continue.
Click "Choose File" button and select the new firmware file (.fw extension) previously saved to your computer.
Click "Upload" button to start updating.
When the firmware is updating, please don't break the network connection or the power. Crescendo will take a moment to upload the firmware file. Once uploaded click "Ok" to begin update.
During firmware installation the Crescendo's front light will turn off (this may take several minutes) and the Setup and Status LED on back of Crescendo will continue to blink red/red/green/green.
When firmware update is complete, the Crescendo will reconnect to your wireless network, the front LED will turn purple, and the Setup and Status LED on back of Crescendo will turn green. If you used a temporary direct Ethernet connection to perform the firmware update you will need to disconnect the Ethernet cable and turn the Crescendo off and on before the speaker will reconnect to your wireless network.