Starting at $6,995 per pair

Quick specs:
44" x 9.2" XStat™ CLS™ Transducer
200W 8-inch PoweredForce™ Woofer
24-bit Vojtko™ DSP Engine
8-inch Passive Radiator

Professional Reviews
MARTIN LOGAN ETHOS REVIEW
Listening to Martin Logan again since my last audition on its bigger brother Summit X years ago, brought back many joyful moments. This is a wonderful pair of entry-level speaker from Martin Logan and I recommend readers to audition prior to settling for the mediocre speakers. They are not cheap, but am sure it will give you the lifelike sensation you yearning for in your listening room.

—Kriz Tan, HiFi Senses
Read the full review »
MartinLogan Ethos Loudspeaker Review
The Ethos is an exceptional speaker and a bargain at its price. This speaker does so much, so well, it's incredible. It does so much, at such high standards; excellent integration of woofer to panel, seamless and world-class midrange and treble, excellent soundstage and a most articulate, clear, transparent sound while at the same time, being sweet, musical, life-like, and musically engaging. And the tonal balance is also spot-on.

—George Papadimitriou, Dagogo
Read the full review »
MartinLogan Ethos Loudspeakers Review
…[no competitors] can match the Ethos in purity of the midrange, texture, and insight into the overall performance. The Ethos excelled in providing cues to performer spacing of performers and superb dynamics. Very few other designs can compete with the coherence and transient speed of ESLs.

—Andre Marc, Audio Video Revolution
Read the full review »
MartinLogan Ethos Electrostatic Hybrid Loudspeakers
Great looks, advanced engineering, beautiful fabrication by craftspeople in the US, reasonably pricing and musical beguilement — the Ethos shows how MartinLogan's concerted efforts in introducing novel technologies have paid off in terms of addressing the electrostatic design's various inherent Achilles' heels. For starters, the speaker certainly excels at explosive bass crescendos; the ample in-built power and high-quality dynamic drivers (and passive radiators) see to that

—Edgar Kramer, Best Buy Home Theatre
Read the full review »
MartinLogan Ethos Loudspeakers Review
All in all, the MartinLogan Ethos are a lot more user friendly than many typical floorstanders I have lived with. Freedom from driver and cabinet colorations makes any the considerations above hardly worth noting, and they are on my personal shopping wish list. I found them to be the most capable of music makers. I can't recommend an audition highly enough. Be warned, however, you'll have a hard time getting out of your mind the virtues ESLs bring to the table. The MartinLogan Ethos is a best buy if there ever was one

—Andre Marc, Audio Video Revolution
Read the full review »
MartinLogan Ethos Loudspeakers
The Ethos's low end took me completely by surprise. For the first couple of months I hadn't even looked at the speaker's specifications, and so was unaware that its front-firing woofer was being augmented by a downward-firing passive radiator. Again and again I caught myself looking up at the speakers (I often read while listening to music) when a particularly low and well-defined bass note slammed through my room.

—Jason Thorpe, Sound Stage
Read the full review »
MartinLogan Ethos Hybrid Electrostatic Speakers
I think MartinLogan has a real winner of a speaker in the Ethos. My respect for them grows each and every day. I believe that life is short and you should go all in when you can...Give them a try; you will probably agree with me that they perform far better than speakers costing much, much more.

—Jim Clements, Secrets of Home Theater and High Fidelity
Read the full review »
Martin Logan Ethos loudspeaker review
Martin Logan's XStat panel in the Ethos is probably the best electrostatic driver I have ever heard, and this alone hoists it way up above most other loudspeakers...It is for those who want obvious and extended deep bass, the dramatic sonic purity of a top quality electrostatic and a standard of design and finish high enough to grace a modern home.

Hi-Fi World
Read the full review »
Customer Reviews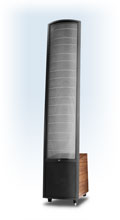 Ethos
Massive PoweredForce™ bass performance and unflinchingly accurate XStat™ electrostatic technology.
---
by Jim D., 5 years ago
1 of 1 people found this helpful






Simply Amazing
I have had my Ethos for about a month now, and for once in my life I am speechless. As they begin to "Break In", I can actually detect specific sounds (vocals, instruments, breathing, etc.) that I swear were never present before. Please trust me when I say, and what I've heard time and time again, but they do make you believe that the band is playing live for you in your very own living room. Yes people, they are that good! To the men here who may need spousal approval to spend the significant amount of cash required for these, I strongly recommend that you take her to your nearest ML dealer and just let her see them; worked for me.
Jim D.
Edmonton, Alberta



---
by Djohansyah S., 3 years ago






Better than my imagination
Initially I am planning to buy Montis model, but after various consultation and consideration I went with Ethos. Main reason is size of my stereo listening area.

Its better than I thought. Listening to Jazz and occasion classical and 70s/80s R&B never been better with this step of speaker. For great live recording, it like the singer standing infront of you.

When I use a Tube Power Amp it even sound better especially coming from a great Jazz or vocal recording -- either Vinyl or CD/SACD.

Step up relatively easily. I used the rubber feet instead and I also added a wooden flap underneath the speaker. I felt it make the bass a much more round.

I listen stereo music only through Vinyl (most of the time) and SACD/CD.

My stereo set up as follow:

1. Preamp - SONY1000ESD or Carver CT-25. Soon to be McIntosh C2500 or C50.
2. Tube Power Amp - Audio Research VS115. Back up Rotel 1050 Power Amp
3. Cable mostly by Wireworld.


---
by saltidadyo, 3 years ago






ETHOS-ML KNOCKS ONE OUT THE PARK AGAIN!!!!
THE SPEAKERS ARE SIMPLY PUT AWESOME THEY HANDEL ALL MUSIC PRECISELY IM STILL BREAKING MINE IN BUT THEY STILL SOUND AMAZING DO NOT HESITATE TO BUY ANY MARTIN LOGAN PRODUCTS


---
by LMML, 4 years ago






Eureka!
As a very satisfied Martin Logan (ML) owner who used the Aerius/Abyss subwoofer combination for over 20 years, I was very surprised just how much more better the Ethos sounded. I had not got back into the speaker market until I heard the Ethos. At that point I knew it was time to replace my speakers. I listened to a lot of other brand speakers but finally knew that replacing my present ML setup meant buying another ML speaker - the Aerius were still very competitive with many of today's box speakers. After putting the Ethos in my audio/video setup I immediately was aware of how much music I have been missing. The Ethos are magnitudes better than my old setup. The Ethos have exceptionally more clarity of detail, soundstage, body and "oomph". My kudos to Martin Logan for building an superb speaker in the Ethos...back in audio nirvana!


---
by GrandAudio, 4 years ago






I wanna put the martin logan in my shop
Hello..my name is denny..
Nice to meet you..
I live in indonesia..
My uncle open a audio store in pondok indah mall..
Its located in jakarta (capital city of indonesia)
Pondok indah mall its located in south of jakarta..
Many rich people live around in this south jakarta..
I text you for the reason I wanna put martin logan speaker in my uncle shop..
But I dunno how I can find any dealer in this country..
Email me back for sure..
Ah..one more think Grand Audio its 7 year in this mall..
Our speaker its vienna acoustic, mourdant short, mission, paradigm, polkaudi.. And ect

I think the martin logan its better more than those speaker I write..hhaahah..

Contact me in khoedenny@yahoo.com

Or call me in 081287455545

Thx martin logan..I waiting for you..


---
by FOZ, 4 years ago






Martin Logan excells again
I recently purchased a pair of Ethos to replace a pair of 20 year old Eosone 1000 speakers. The performance of these Ethos represent a stunning transition to a much higher level of listening enjoyment. The Ethos are well balanced no matter what the choice of music from classical to country rock. Their clarity and presence are a constant enjoyment.

I cannot be happier with their performance and their visual appearance make my wife smile. It just doesn't get any better than that.


---
by Mike N., 5 years ago






A great buy!
These speakers entered our home just days ago to join many other pairs of great speakers from companies like B&W (home studio & office), JBL (guest rooms), James Loudspeaker & Triad (home theater), Cambridge Soundworks (gym), Polk (pool), Genelec (home studio), and others. And they're my first pair of electrostatics. As a musician with a home studio, I always prefer speakers that accurately reflect source material and minimize colorations. And these don't dissapoint.

From Hilary Hahn's violin, to Hiromi's piano, to bands like Rush, through a variety of material, these speakers sound superb and don't fatigue my ears after extended listening (which is unusual). Ethos truly shine on vocals and close miked instruments -- which may sound like they're in the room with you depending on the quality of the recording.

The Ethos now provide all the sound for an approximately 30' by 30' living room area in our home. The stereo field and tonal balance are excellent... which was a serious concern before the speakers were actually hooked up. (Acoustically, it's a difficult room with many reflective surfaces.) And at a dinner party last night... guests were admiring them because of the way they *looked*!

I maintain a large CD collection on a Kaleidescape system... and have spent hours jumping back & forth among a variety of albums & genres. For the price, they're a bargain compared with other monitor quality speakers I've listened to.