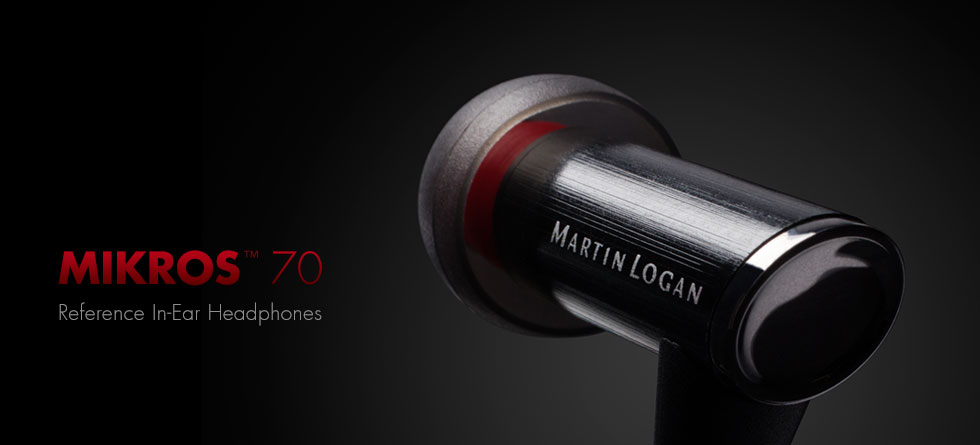 Priced at $149.95 per set
Priced at $299.95 per set
Portable Legendary Sound
Inspired by the sonic clarity and detail of our legendary electrostatic speakers, the Mikros™ 70 reference in-ear headphones deliver the realism, richness, and purity of sound that MartinLogan's discerning customers have come to expect. With superb ambient noise isolation, listening through the Mikros 70 is like having your own private MartinLogan listening room wherever you go.
Legendary Sound

Inspired by the sonic clarity and detail of MartinLogan's legendary electrostatic speakers.

Controls & Microphone

Never miss a call with Apple-approved in-line remote and microphone.

Simple Connections

Gold plated, angled 3.5mm jack with a durable, easy to grip housing for a solid and reliable connection.

Multiple Ear Tips

Comfortable, snug fit that isolates up to 97.8% of ambient noise with deep, extended bass.
Design Focused On Sound
High quality materials and obsessive attention to detail are as much part of this new portable design as in our traditional loudspeakers. The Mikros 70 body is constructed from black anodized solid aluminum and sealed with metallic hyperblack end caps to isolate ambient noise.
A 90-degree gold-plated plug, tangle-reducing cable slider, and simple, yet durable, black rubberized cord dampen and isolate noise that can be transmitted through contact and movement, transmitting the most subtle nuances of recorded sound—and nothing else.
Included with each headphone is a compact carrying pouch to assure safe stowage when traveling.

Superb Comfortable Fit
Each pair of Mikros 70 in-ear headphones include a variety of ear tips (3 sizes of bulb tips and 2 sizes of flange tips) for a comfortable, snug fit that isolates up to 97.8% of ambient noise and provides outstanding sound quality with deep, extended bass.
Control At Your Fingertips
Mikros 70's have an in-line remote and microphone that controls volume, play/pause, track selection, voice control, and allows seamless transitions between listening to music and phone calls on compatible Apple devices. The remote and microphone also function with a variety of smart phones, digital media players, and similar devices* with a standard 3.5mm 4-conductor socket.
* Exact function of the remote will vary by make and model and MartinLogan cannot guarantee compatibility with specific brands or models.