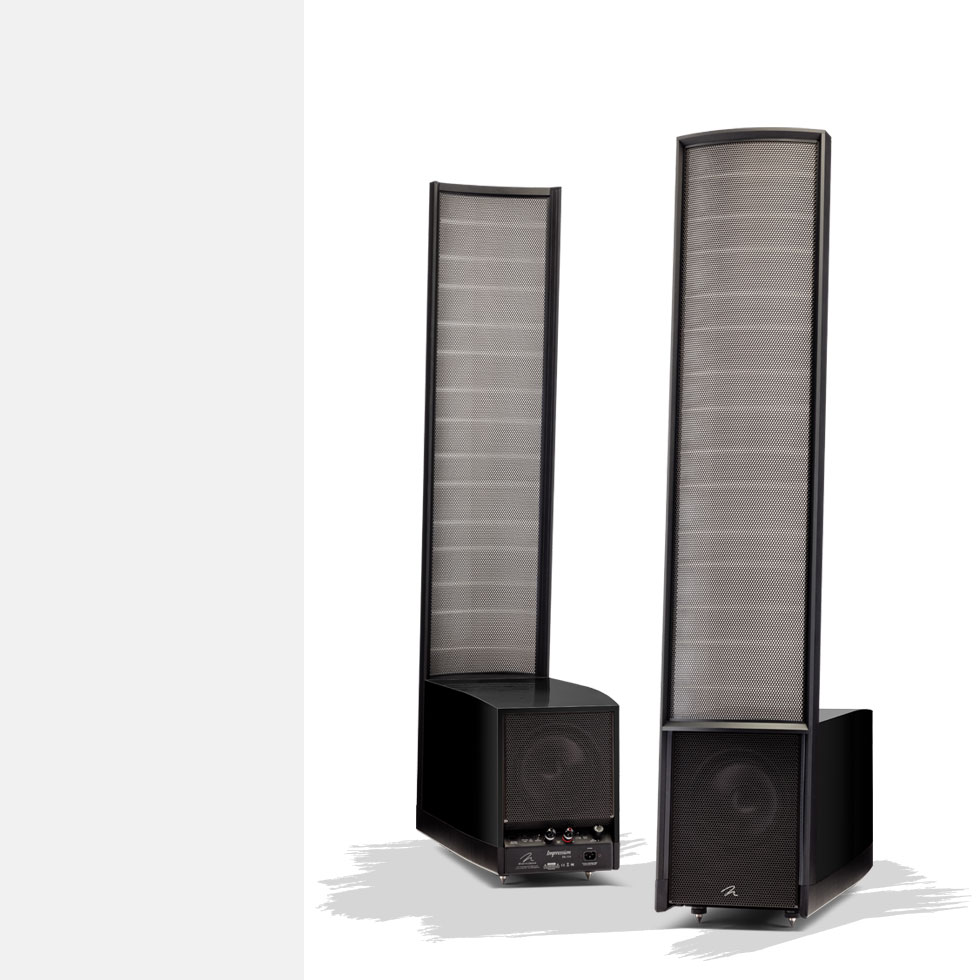 Impression ESL 11A
Masterpiece Series
Starting at $9,995 per pair
Quick specs:
44" x 11" XStat™ CLS™ Transducer
29–23,000 Hz ±3dB Frequency Response
Dual 8-inch PoweredForce Forward™ Woofers
with Dual 275W / Channel Amplifiers
24-bit Vojtko™ DSP Engine
Anthem Room Correction (ARC™) ready
Finish Options:




Professional Reviews
MartinLogan ESL 11A Impression Electrostatic Loudspeaker: "My High-End Speaker Of The Year"
The MartinLogan Impression shows how the evolution path of electrostatic speakers has improved the technology to the point where it is nearly flawless in its performance. They now have low bass that matches the speed of the panel's immaculately, focused midrange/treble, and they can be played much louder than the original 'stats. The big selling point, however, is that gorgeous spread of sound. That space impression and the ability to convey the finer details of music — it all helps deliver on the promise of musical realism through the speaker.

—John Gatski, Everything Audio Network
Read the full review »
Martin Logan Impression ESL 11A
Martin Logan loudspeakers in general have always had unbelievable transparency and spatial rendering that has to be heard to be appreciated. However, with the Impression ESL 11A, the company has taken a significant step forward. This is not only the most coherent hybrid electrostatic loudspeaker yet, but they also produce the absolutely best bass that I have ever heard in my listening room, period!

—Christiaan Punter, HiFi-Advice.com
Read the full review »
Ein Drucks Voll / Impressive [GERMAN]
[Translated] All this made the MartinLogan Impression ESL 11A in the important disciplines of neutrality and detail reach sensationally with the great Renaissance. Their larger foil area, however, still gave them tiny advantages in spatial imaging. The more voluminous woofers were able to produce even richer levels with even deeper bass.

—Lothar Brandt, Audio
Read the full review »
MartinLogan Impression ESL 11A Electrostatic Speakers Review
The MartinLogan ESL 11A is a world-class speaker. It is revealing, accurate and has the huge soundstage one expects of a dipole radiator. The speaker can sound good with modest source components, but to hear it at its best, use the highest-quality sources and amplifiers that you can provide.

—Glenn Young, Secrets of Home Theater and High Fidelity
Read the full review »
Customer Reviews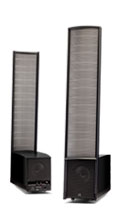 Impression
ESL 11A
Impression ESL 11A reveal the pure emotional impact of the performance, with nothing between your audio and your ears. Featuring a 11-inch (CLS™) XStat™ electrostatic transducer, dual 8-inch PoweredForce Forward™ woofers powered by dual 275-watt Class-D amplifiers, and controlled by a 24-Bit Vojtko™ DSP Engine and ARC™ (Anthem Room Correction).
---
by Thien L., 10 months ago






Impression 11A
I recently purchased these pair of Impression 11A in Maple cabinet from Magnolia Best Buy. These speakers are beautiful to look at, and the fit and finish are excellent. These speakers were shipped with black covers; however, I would prefer to see a more beautiful covers to cover these beauty. I need to cover them because of my young children playing around the house. I wish they have nice beautiful cover with big ML logo on it.
These speakers sound beautifully crisp, highly detail, and very directional. I drive them with my Mcintosh pre-amp and tube amp setup. I follow the setup recommendation and set them at least 2 feet away from the wall, and their locations to my listening position form an equilateral triangle. Any deviation from this triangle, even only a few feet off, will result in unbalanced center sound stage. So let me say again, location, location, location.
There is a noticeable different between before and after ARC setup. The reason I chose these Impression speakers over the Classic for their dual balance force subwoofers with their own power amp, and also the ARC feature. However, I feel their subwoofers are not powerful enough (as compared to a dedicated subwoofer box) for my liking. I am not talking about earth shattering, house shaking bass; but at least enough bass pressure or I can feel the bass. I must increase the bass gain in my preamp just to feel enough bass coming out.
I also purchased ML BalanceForce 212 subwoofer to pair with these speakers and to augment them. Let me tell ya, they are made for each other. I can equalize the bass with the PBK, and load the phase matching software specifically for my Impression speakers. Now, I can hear and feel substantial bass coming out from my music. Even at low volume, I can still hear and feel the rich and clean bass.
Overall, I am very happy with these setup. To make the most of out them, I also acoustically treat my entire living room with bass traps and acoustic panels. Acoustically treated room makes a huge different in sound quality, it makes the best sound system sound even supper.


---
by Geir Fagervik, 11 months ago






Speaker for a lifetime
Just tested the New Martin Logan speaker Impression. The most important quality in a speaker for me is resolution and transparency. Listening to the Impression speaker is like all the filter are gone. It reaches so deep into recordings, in a way I did not think was possible. I listen to complex electronic music, and the presition and details revealed makes it possible to visualize each sound on the recording. It has a lot of air, and the sounds are never sharp. You can actually listen on good volume without risking tinnitus. The bass integration of the new Martin Logan is so much better than on the former models I have tested. I mean, the result i breathtaking. For me this is the last speaker i ever need to invest inn, and therefore the price is actually cheap!