Quick Facts
---
MartinLogan's Chief Audio Technology Engineer (and 25+ year employee), Joe Vojtko, was once MartinLogan's entire electronics department.
---
MartinLogan's service department maintains a collection of electronic sub-assemblies from every product we've ever made. These are used as a reference when vintage MartinLogan speakers return for service.
Electronics Assembly
---
Hand-wired point-to-point.
Every MartinLogan ESL (electrostatic loudspeaker) is constructed throughout to extreme standards. We hand-assemble many of our electronics, and every part in the audio signal path is custom designed and manufactured. In addition, every component, from audio transsformers to cable and circuit boards, is hand inspected and tested before final assembly.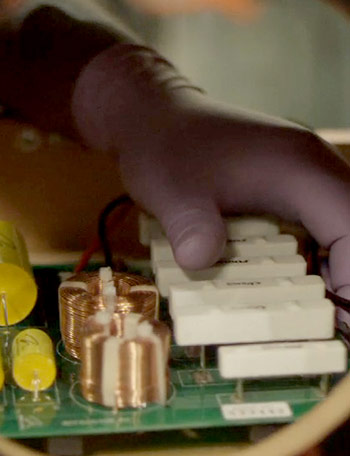 Our audio transformers have interleaved windings for extended bandwidth. And we build our crossovers using only the highest-quality polypropylene capacitors, air-core coils, and proprietary MartinLogan copper wiring. Reserve ESL Series crossovers feature hand-soldered point-to-point wiring to achieve the purest possible signal transmission. Every crossover is exhaustively quality checked, both by a custom computer program to ensure the tightest tolerances and component matching and by eye to ensure perfect solder joints and connections.