Final Assembly
---
Focused on perfection.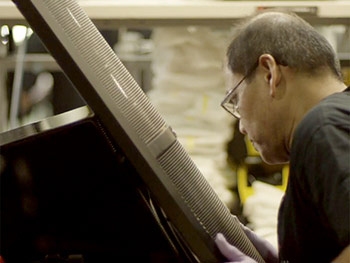 Final assembly brings all of a speaker's subassemblies (cabinets, crossovers, electrostatic panels, and so forth) together to create a finished product. All electrostatic speakers are hand-built in a process that can take up to two weeks.
The final-assembly team inspects each component before it goes into a finished speaker. This requires continual observation with a critical eye. Everyone, from freshman speaker builder to seasoned old-timer, has the power (and obligation) to reject any flawed part, whether it's a spike foot or an entire cabinet - or even to shut down an entire line if he or she discovers a critical issue.
The other side of the coin is that everyone also contributes to enhancing quality and efficiency. Ideas range from as simple as organizational systems for screws to as complex as custom jigs and workstations.
Subwoofers and other speakers incorporating powered woofers are subjected to a burn-in period of up to 12 hours in which they must produce sustained low-frequency output at high volumes. This process weeds out any components that may harbor weaknesses not detected in earlier rounds of inspection and testing.
New speaker builders learn MartinLogan's process in a rigorous two-month training, during which experienced builders constantly supervise and instruct them. Everyone working in final assembly has to earn the right to build a speaker unsupervised - and not everyone makes it.