Fine Finishing
---
Hand-selected and hand-finished.
Making sure that every MartinLogan speaker looks perfect is what fine finishing is all about. Our specialists are experts in surface coatings from traditional to exotic, and their long experience with a wide range of materials, including hardwoods, synthetics, and various metals, assures that our speakers will maintain their original beauty and unique surface characteristics for many years.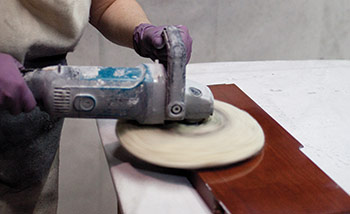 Most MartinLogan speakers have a number of finish options (wood trim accents or veneered cabinets). We select each wood for tightest ring configuration and smoothest grain, rejecting a high percentage for imperfections. Only the most nearly flawless stock passes muster. Every piece that does is inspected, grain-matched, and painstakingly hand-finished.
After cutting and shaping, each piece is hand-lacquered, fine-sanded, and lacquered again for a smooth, luminous, long-lasting finish. Only after a final cosmetic quality check does a finished piece move on to final assembly.