Quick Facts
---
MartinLogan's World Headquarters consists of 3 buildings in Lawrence, Kansas and a manufacturing facility in Mississaugua, Ontario. In 1987, the entire MartinLogan operation occupied only half of one of the buildings in Lawrence, Kansas.
---
In 1999 MartinLogan built a new factory with the intentions of moving all manufacturing into one massive facility. Due to rapid growth MartinLogan outgrew this new space before its completion.
---
Built in 1904 and now listed on the National Registry of Historic places, the Poehler building in Lawrence, Kansas has housed MartinLogan in various capacities over the years, including the first MaritnLogan factory, the first dedicated design center, and the first dedicated cabinet shop.
Headquarters: Lawrence, Kansas
---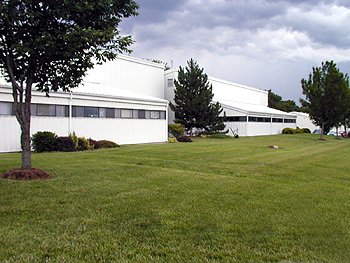 Fusing traditional craft with manufacturing technology.
MartinLogan is located in Lawrence, Kansas, 25 miles west of Kansas City and minutes from the University of Kansas and the Haskell Indian Nations University. Our company occupies three buildings in Lawrence, Kansas which provide offices for our administration, industrial design, engineering, sales, service, and marketing teams. MartinLogan's North American manufacturing facility is located in Mississaugua, Ontario where our electrostatic speakers are hand-built by a highly-trained team of manufacturing specialists.
Nothing is more important to our operation than the keen minds and able hands of our designers, engineers, crafts people, and materials managers. They cast unflinching eyes on every critical part, cabinet joint, and solder connection in relentless pursuit of perfection. Together they have evolved a lean, streamlined process that moves speakers efficiently through the manufacturing facility while ensuring total control over every determinant of quality and performance.