Quick Facts
---
MartinLogan employees are extremely passionate about our products and believe whole heartedly in the brand's quality and integrity. These numbers speak for themselves:
12% of employees have been with MartinLogan for over 20 years.
33% of employees have been with MartinLogan for over 10 years.
---
Employees use the term 'Frankentype' to describe early prototypes.
---
MartinLogan has an entire department dedicated solely to Quality Assurance.
---
Each year MartinLogan employees spend approximately 90 (or more) working days overseas to monitor quality in international manufacturing facilities.
MartinLogan Factory Tour
---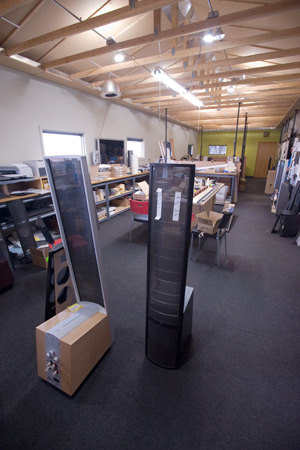 All MartinLogan speakers begin life at our in-house design center in Lawrence, Kansas. Here we design and engineer everything we make to exacting standards, using the best parts available to meet each product's particular requirements.
We are committed to precise manufacturing and have invested heavily to equip our Canadian manufacturing facility with all the tools and talent necessary to build the world's most precise speakers. There you will find our dedicated manufacturing team handcrafting each electrostatic panel and hand-assembling our electrostatic products.
We have not walled ourselves off from what the rest of the world has to offer. We sample parts and subassemblies from vendors all over the globe, including companies throughout Europe, Asia, and the Americas. Whatever the product, our primary goal is to provide the highest performance possible, regardless of whether a crossover capacitor comes from Turkey or a cabinet substrate from Canada.
We also manufacture some speakers in China and Taiwan R.O.C. This was a carefully considered decision based on the quality we knew we could obtain in those countries and the prices we felt we needed to achieve for these products. We choose each manufacturer for specific skill sets that will assure that each speaker is of the highest quality. Before approving final production at any outside facility we send key members of our design team (the same people who developed the product) to work there. They scrutinize and adjust the manufacturing process for each speaker until we are satisfied it meets our standards.