Refining the powerful performance of Ascent i required intense engineering and dynamic driver design. The result? An extremely high-resolution, ESL transducer and perfectly matched single high-resolution woofer that together provide a truly musical performance.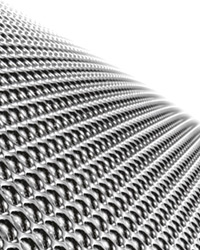 CLS™ Generation 2 Electrostatic Panel
Innovative manufacturing techniques enabled MartinLogan to produce the original Curvilinear Line Source panels, the first wide-range electrostatic drivers to deliver good horizontal sound dispersion without sacrificing overall sound quality or reliability. CLS Generation 2 builds on that success with advanced diaphragm and stator technologies that significantly enhance speaker efficiency and dynamics.
Our new thin-film plasma-deposition process applies an improved conductive coating to the ultra-low-mass PET (polyethylene terathylate) diaphragm for superior adhesion and abrasion resistance, as well as a better impedance characteristic. MicroPerf™ stators expose more of the diaphragm surface, dramatically expanding effective radiating area without increasing panel size, while ClearSpar™ spacers help maintain their stiffness without impairing the signature transparent look of MartinLogan electrostats.
Low-Distortion Aluminum-Cone Woofer
By eliminating cone flexure, aluminum diaphragms help our advanced-technology woofers achieve the very low distortion necessary for proper blending with MartinLogan electrostatic panels.
Vojtko™ Crossover
Carefully hand-built using only the finest polypropylene capacitors and air-core coils, the crossover employ's MartinLogan's proprietary Vojtko topology for vanishingly low distortion and seamless driver integration. This precision-tuned network preserves even the most microscopic sonic nuances while handling the full dynamics of any source.
Dipole Sound Radiation
The sound we hear from a loudspeaker is a combination of direct radiation from it to our ears and reflections off of room surfaces – walls, floor, and ceiling. How our brains integrate all this information is far from simple. Depending on the angle of incidence to the ears and the arrival-time difference between direct and reflected sound, reflections can either blur detail and stereo imaging or enhance the natural impression of depth and openness.
True dipole speakers, such as electrostatic panels, have long been noted for their near-ideal radiation patterns. They send very little sound to the sides, thereby minimizing side-wall reflections with short arrival times that tend to interfere with perception of the direct sound. Their strong rear radiation, however, produces a generous amount of ambience-enriching later-arriving reflections off the wall behind them.
Aesthetic Design Assures Perfect Integration With Any Environment
Ascent i features advanced construction techniques including specially designed stator supports and a composite headpiece for maximum stator rigidity and astonishing clarity. Ascent i is finished with an attractive, durable semi-gloss black cabinet finish and Meteor colored stators (electrostatic panel elements). The Aeon i is available with a variety of hand-finished trim options.
Bi-wirable Toolless Binding Posts
MartinLogan's proprietary toolless binding posts make cable connection and management easy. Two sets are supplied, one connected to the crossover section feeding the electrostatic panel, the other to the section feeding the woofer. When the two are linked using the supplied straps, a conventional single-cable connection can be used. Or you can remove the straps for bi-wiring.
Energy Transfer Coupler Spikes
The speaker is supplied with sturdy, 3/8-16 ETC™ spikes, which can be used in place of the standard feet to enhance stability on thick carpets or to create tighter coupling between speaker and floor.