$4,995 per pair

Quick specs:
44" x 9.2" XStat™ CLS™ Transducer
8-inch Aluminum-Cone Woofer
Precision Built Vojtko™ Filter
Bi-wirable Tool-less Binding Post

Professional Reviews
MartinLogan Theos ESL Speakers Review
For $5,000/pr there are a lot of great speaker options on the market, but none quite like the Theos. The look of the speakers screams "high end" and they are sure to amaze anyone who has never seen an ESL speaker.

—Cliff Heyne, Audioholics
Read the full review »
Martin Logan Theos Hybrid Electrostatic Speakers
The speed and transparency that their electrostatic panel seemed to offer compared to a conventional box speaker was always enchanting, and unlike many other speakers of similar designs, they played well without a massive amplifier and with rock and roll music.

—Chris Heinonen, Secrets of Home Theater and High Fidelity
Read the full review »
Customer Reviews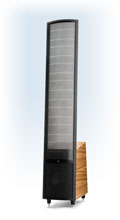 Theos
Unflinchingly accurate XStat™ electrostatic technology—the most affordable hand-built electrostatic speaker with real wood finishes and custom bi-wire capable binding posts.
---
by Rainer, 4 months ago






Theos : superior sound with Emotiva XPAGen3 4amplifiers - XSP-1 and Sony DAC PHA-3
Hi, I recently listened to the Impression speakers driven by McIntosh tube amps
(stereo amplifier) and CD player. I was really fascinated by the transparency and 3D resolution of the music (I love classic music, especially Mozart operas). Unfortunately the price level was significantly higher than the amount I was willing to spend. - Then I found Theos speakers at Amazon for a reasonable price and ordered a CD player, preamp and 2 mono blocks from Emotiva. Amazon was not able to supply the mono blocks. So I called Emotive directly and after a short discussion with their technician I ordered a XPA Gen3 with 4 independent amplifiers each max 260 watts, also for a very reasonable price. This allows to drive the ESL and Woofers independently so that the impedance drop of the ESL to below 1 ohm at 20 kHz cannot impact the Woofers. I think this is a very important point ! as only very few amplifiers can drive such low impedances. This is called the bi-amplification. Fortunately the Emotive preamp can drive the 4 amplifiers as it has 2 sets of balanced outputs.
The result is exactly what I was looking for - using a Sony headset MDR-Z7 as reference - and is really impressive, especially when using the really high end quality Sony PHA-3 digital to analog converter. The sound is absolute clear and transparent. The voices are "live". The dynamic is extremely impressive and the spacial resolution of instruments and vocals is very precise.
Overall this system provides the sound of a real high end system and at least to me is equivalent or even better than the stereo McIntosh driven Impression. The value for money is approximately 3 times higher while the sound is excellent. Therefore I rate the Theos driven by the mentioned system with 5 + stars !
:-)
In the case of questions let me know.
best regards

Rainer



---
by Glen J., 3 years ago






Believable Music Reproduction in the Home
I've had a pair of Theos for about a month. These were purchased used as a trade in from an authorized dealer. I have used cds and vinyl records as source material.

My system is a a two channel system located in a room that is about 4500 cubic feet in volume. I carefully followed the instructions in the owner's manual regarding speaker and listener location in the room.

I really like these speakers. They give a very believable listening experience. I have driven them with four different audiophile style amplifier set ups (a Krell KSA 150, a conrad johnson MF2200, a vertically bi-amped conrad johnson MF2200 pair, and a conrad johnson MV52). They sound great with all of these configurations.

I don't think there are any other speakers out there within three times this price point that are any better ... and I know that there are many others that are no where near as good.

The spectrum is very balanced. Transient signals have incredible presence and snap. There is good space around each instrument or vocal. Tone and timber of instruments are always consistent with expectations for the voice or instrument.

I can also observe that the speakers appear to be pretty rugged. You are not likely to poke out a cone or crush a dome as often happens with conventional speakers.

As mentioned, this pair was used. As a consequence there were some dings on the speaker grill covering one of the woofers. It was not dented enough to damage the woofer, so it did not affect the sound. I called Martin Logan and they were able to send me a new grill with detailed instructions for installation. The cost including shipping was less than $60 and the replacement part arrived at my house in the same week I'd ordered it. It was an easy fix, and now this pair of used speakers appear to be perfect.

I am very pleased with both the Theos and Martin Logan in general. I would buy these again without hesitation.


---
by bernard r., 4 years ago






UPGRADE
Purchased a pair of B&w cm7 in 2008 from a dealer in new orleans that also sold Martin Logan, just couldn't afford  Martin logan at that time. I finally had the chance to, and man it is great and the speakers have less then 100hr on them. Female voices were front and center, instruments a lot more present then with my B&w cm7 and i find myself listing more to my music.    


---
by rtech, 4 years ago






Home Theater
I have been looking for a certain sound ,definition, clarity and presence. That until now I hadn't found the right combo.the search began on the internet then to a good test with my favorite music at local dealers and I listened to both the ESL and then the Theos, definitely found what I had been searching for. The system in both 2 channel and Ht is amazing.The Stage is a welcome addition to the center the vocals are exceptional.I choose the stage over the x from the ML forums, based on panel size and a good choice it was. My room is not the optimal dimension but the set up was easy using the flash light method and a couple of acoustic panels. I have now began a search for the upgrade to the sub presently an Outlaw LFM Plus.


---
by Billy R., 5 years ago






Incredible, Beautiful Speakers, and Great Customer Service
I Purchased these speakers at Best Buy and was a bit skeptical because of the power requirements. After taking them home I actually found that one of the woofer(s) were damaged (it was an open box product)and called customer support for ML and was helped out and a replacement part was sent out immediately. Best Buy did say they would take the speakers back but had no replacements to give me right away so I went the route with the ML support. I had the woofer replaced and began listening to the amazing and sound stage these speakers create. Like most ML products the detail is impeccable and the bass response from the woofers was better than expected. Eventually I had to purchase a dedicated amp as the 5 channel one I had did a sufficient job but could tell that these could handle much more. Overall I think the Theos are awesome and look great, I cannot wait to upgrade surround speakers!


---
by coolcobramatt, 5 years ago






4th pair of ML's, always a return customer!
Starting in 2004 with some SL3's, then to Aeon i, and Vista, now I've finally purchased my first ever new set of Martin Logans. I will follow up with a better review once the speakers have broken in and I've lived with them for a few months.

First impressions are they are pretty similar to the Vista (the model they appear to have replaced) but have improved higher end. Soundstage is slightly behind Vista and SL3 but ahead of Aeon i, but I fully expect that to change once they have properly burned in.

ML has wonderful customer support to go with the incredible sound. If you are "on the fence" about buying a set, as a return customer, I can't recommend them higher. The Theos is yet another excellent example of a quality product.

The speaker has the "3d" spatial presentation all ML's are known for and for a someone like me that likes "sparkle" the Theos has a tad more than past ML's I've owned. That's not to say it's bright, as no ML I've ever heard could be considered bright. It's just a step up to my ears. Most otehrs would still consider it flat. If you want brilliant high end you may want to keep to dome tweeters and a normal "box-type" speaker. if you want true musical reproduction and amazingly fluid sound (yes the midrange is to die for)...don't hesitate, invest in some Martin Logan ESL's.


---
by Canada Cat, 5 years ago






If music is important to you
I wanted a long term purchase from an established company in reputation and quality. I owned the British Quad electrostatics for a decade and wanted the replacement to be comfortably better at a price I could afford. The Theos surpass the Quad in all but bass to mid range transition. The Theos has deeper and more prominent bass. The imaging is bigger, more forward, sweet spot larger and music ultimately louder and more dynamic. The human voice and acoustic instruments such as piano, violin and clarinet are superb. The construction and finish is top class, the panels safe and easy to clean. This is a wonderful speaker for jazz, blues, classical, pop, soft rock, country and easy listening music. Those who love hard driving rock music must listen before buying. This is a long term, prestige purchase and I bought the extended warranty.

My associate equipment: Marantz PM 15S2 integrated amplifier, Marantz SA 15S2 cd/sacd player, Rega 3 turntable, Shure M97xE phono cartridge.


---
by Dman, 6 years ago






I can't complain
Theos - Front mains
Stage - Center
Depthi - Sub

Denon: 4810CI receiver
Amp: 300w Acurus into 4ohm
Surrounds: Klipsch SS1

I purchased the sub last year, the front mains and center this year.

If the world ends on 12.21.12, I'll die a happy man! I fulfilled a dream I've had since the early 90's when I heard my first pair of ML's in Detroit.

I'm rediscovering some of my music all over again with the clarity and presence like I'm sure it was meant to be heard from the original recordings.

I wish I could have afforded the Summit X's but with the sub, these fit very nicely in the alloted space.


---
by Evan H., 6 years ago






Theos
My father runs a Audio/ Video retail shop in our town and I have had the opertunity to listen to a lot of great systems throughout my years. I'm an A/V installer and I get excited about great sound. In all my 14 years of experience I have never been so excited about a product. I started researching Martin Logan and could not stay away from there unique build design and characteristics. I had to have a pair. Enough about me. Let's talk about these great speakers. I have them setup in my home as a 2 ch system. I have a funky room with hardwood and vaulted ceilings and my Theos do a great job imaging . Picture yourself sitting in your living room enjoying Ray Lamontane as if you were hearing him live. They have such a open sound stage. They are very dynamic. And oh yeah like look like a work of art. I love my Theos Xstats.


---
by Howard B., 6 years ago






Outstanding Presence
Out of the box sound is excellent.

Good bass, very clear mid and highs.

Biggest surprise is the presence. It sounds (and feels) like the musicians are IN my living room, not making sounds that come out of my stereo.

Wonderful speakers Martin/Logan. Bravo!


---
by Bruce, 6 years ago






Theos rocks
Just got a pair and can only rave about how they look and sound. I cannot give any detailed review yet but
can share a few out of the box observations.

I am no professional audiophile reviewer but will add my two cents about these speakers.

I have played them on a Marantz receiver and hooked them up to my Krell pre pro.
If you own a receiver forget about getting the best out of these speakers. They sound dead.
If you hook up an amp that can distribute some power to them they will out perform any speaker of double the price from other brands.

I chose the Theos in front of the Ethos because with these I will have more options with bass so long as I keep providing the speakers more power.
I also already have a sub-woofer so the Ethos was not necessary.
That being said, I am quite surprised how good the bass is. The Theos seems to have more bass than the pair of Vista's that I auditioned. I am not sure if my room has more to do with the improved bass than any advancement from Martin Logan in the speaker design over the Vista model. The fact that the cabinet has changed and that the bass port is under the speaker instead of the rear may have a lot to do with the improved bass.
The bass is now tighter than with the Vista and the lower crossover frequency of 425Hz improves the phasing from panel to woofer.
I plan to bi amp the Theos soon and see how much better the bass can get.

The panel is gorgeous large but doesn't take up space. Provides a larger sweet spot than the smaller panels and offers us what Martin Logan do oh so well.

Now the Vista that I seem to be trashing was a wonderful and highly regarded speaker with multiple awards and rave reviews. I just think the ML has given us even better this time.

Thank you Martin Logan. Your speakers continue to rock.





---
by pym, 6 years ago






Theos
i changed my Eon for the new Theos

it a very great experience by far a better sound