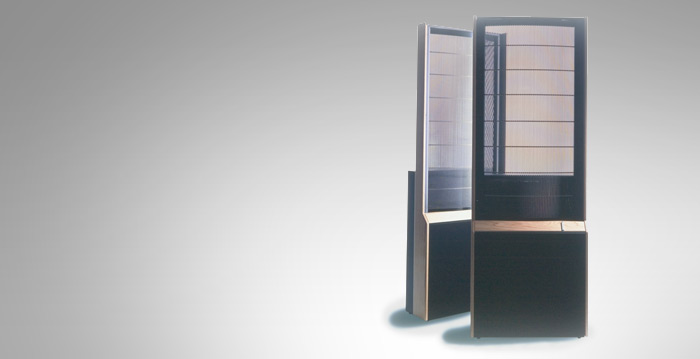 Monolith II
DISCONTINUED
Launched in 1985
---
Price when discontinued:
Customizable, starting at
$5,000
per pair
---
Monolith II
Sound Judgement
The simple, sculptured lines of the cabinet are the first thing you notice. It's not, however, until you listen to the unforgettable purity of sound that your can truly appreciate why the MartinLogan Monolith II loudspeaker has become a classic, and why it remains one. The Monolith II is the result of MartinLogan's early breakthrough thinking in electrostatic technology. The clarity of its sound bathes the entire listening area with all the exquisite truth and beauty of live performance. When you listen, it's easy to understand why our loudspeakers are not priced for everyone. We built them to be the finest in the world. Sound judgment will tell you that this is what you deserve.

| | |
| --- | --- |
| Sensitivity | Specifications are unknown. If you have an original Monolith II manual or brochure with specifications, please send them to dzell@martinlogan.com. |
| Inputs | Screw terminal panel for single amp or bi-amplification |
| | Specifications are subject to change without notice. |