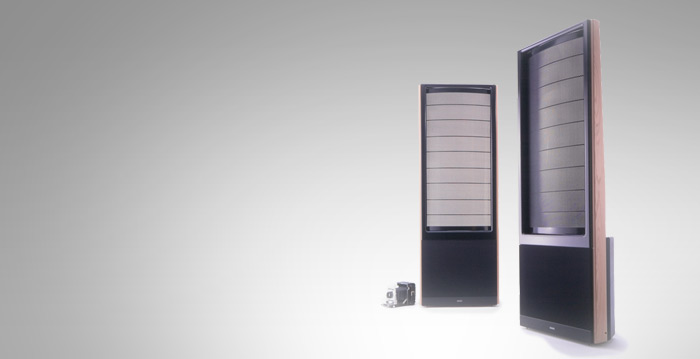 Monolith III
DISCONTINUED
Launched in 1990
---
Price when discontinued:
Customizable, starting at
$6,500
per pair
---
Monolith III
The Power of Sound
It all began with this reference speaker project. Since its emergence in 1982, the Monolith has represented the culmination of reference level ML electrostatic technology and exhaustive crossover and dynamic driver research, providing dynamics, precision and bandwidth comparable at any price range. This system combines lush woodgrain and black satin composite finishes into a strikingly beautiful cabinet, as elegant to behold as its sound reproduction is to experience. The Monolith III requires the addition of an external crossover. You can choose the superb Monolith IIIp passive crosover ($1000 US retail), or the Monolith IIIx (EXOS - $3500 US retail) active crossover.

Frequency Response

28–24,000 Hz ±3dB

Horizontal Dispersion

30°

Vertical Dispersion

48" (121.92cm) line source

High Frequency Transducer

48" (121.92cm) CLS™ electrostatic transducer

Low Frequency Transducer

12" (30.5cm) high excursion, super light, high rigidity cone with extended throw driver assembly. Non-resonance chamber format.

Sensitivity

89 dB/2.83 volts/meter

Impedance

IIIp High-pass: 4 Ohms, 1 at 20kHz
IIIp Low-pass: 4 Ohms
IIIx (Exos) High-pass: 47,000 Ohms
IIIx (Exos) Low-pass: 100 Ohms . Compatible with 4, 6, or 8 Ohm rated amplifiers.

Recommended Amplifier Power

20‒500 watts per channel

Crossover Frequency

IIIp: 125 Hz. IIIx 125Hz 12dB/octave low-pass, 18db/octave high-pass

Components

Monolith III: Glass epoxy boards, Custom wound audio transformer, polypropylene capacitors, air core coils.

IIIp Passive Crossover: Glass epoxy boards, polypropylene capacitors, 100% oxygen free copper coils, wire-wound resistors.

IIIx (Exos) Active Crossover: Glass epoxy bards, metal film resistors, polypropylene capacitors, hand picked J-FETs, TIFFANY input/output connectors.

Audio Controls

IIIx (Exos) Active Crossover Frequency: 30, 35, 40, 45, 50 Hz
IIIx (Exos) Active Crossover Boost/Cut: -4, -2, 0, +2, +4 dB


Inputs

30-amp gold plated 5-away bi-wire binding posts

Compatible Products

IIIp Passive Crossover, IIIx (Exos) Acticve Crossover

Weight

120 lbs. (54.5 kg)

Dimensions

73.75" × 26.75" × 11.75"
(187.3cm × 67.9cm × 29.8cm)

Specifications are subject to change without notice.