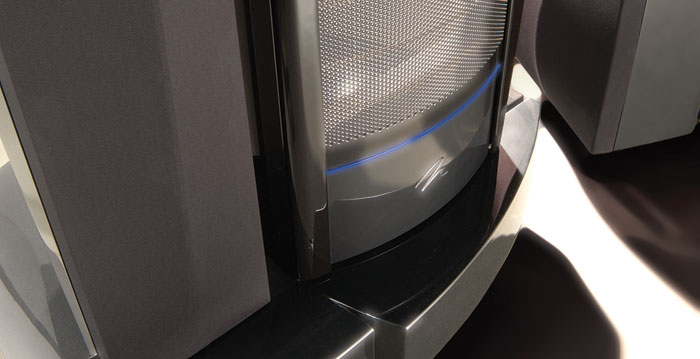 Statement E2
DISCONTINUED
Launched in 1998
---
Price when discontinued:
Customizable, starting at
$120,000
per pair
---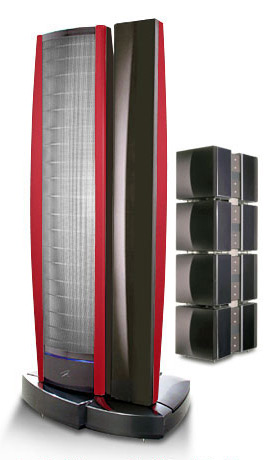 Red Aniline Dye
Statement E2
---
Ultimate Sound Reproduction
Our first 15 years of intense product development and research resulted in numerous breakthrough loudspeaker systems, international awards and thousands of ecstatic customers the world over. Throughout this time, perfect sound reproduction was always at the heart and soul of MartinLogan. Thus, the Statement project fully embodies our essential philosophy and way of life. This absolutely unique loudspeaker system has been a journey of discovery—revealing, challenging, and pushing the boundary that separates the possible from the impossible.
Choose a Finish
---















Frequency Response

150–20,000 Hz, +1/2 / -1dB
18–22,000 Hz ±2dB

Horizontal Dispersion

30°

Vertical Dispersion

70" (177.8cm) line source

High Frequency Transducer

70" (177.8cm) CLS™ electrostatic transducer

Amplifier

Eight proprietary 7" (17.7cm) paper cone drivers per dipolar tower, 60–200 Hz, passive crossover. Eight proprietary 12" (30.4cm) paper cone drivers per sub-bass tower in a BalancedForce™ array.

Sensitivity

91 dB/2.83 volts/meter

Impedance

5 Ohms, 1.5 at 20kHz. Compatible with 4, 6, or 8 Ohm rated amplifiers.

Recommended Amplifier Power

20‒1200 watts per channel

Crossover Frequency

55, 220 Hz

Audio Controls

Bass Control: via EXOS external crossover

Inputs

Custom bi-wire stainless steel binding posts

Compatible Products

Exos Acticve Crossover, Custom 3/8 - 16 ETC™ (Energy Transfer Coupler) spikes

Weight

900 lbs. (408.6 kg)

Dimensions (dipolar towers)

82" × 36" × 28"
(208cm × 91cm × 71cm)

Dimensions (sub-bass towers)

63" × 15" × 23"
(160cm × 38cm × 58cm)

Specifications are subject to change without notice.