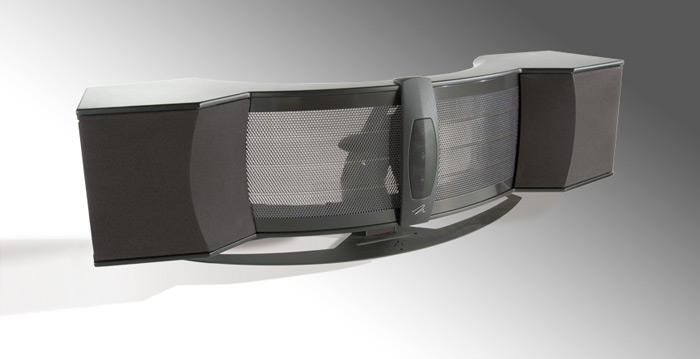 Theater
DISCONTINUED
Launched in 1999
---
Price when discontinued:
$2,595
each
---
Theater
Reference ESL Center Channel
From the beginning, the center channel has been recognized as the most critical element in any home theater system. It grabs your attention, grounds the cinematic experience, and holds you in the moment. Designed and executed precisely, the center channel bridges the theater main channels and provides a seamless sound stage that tracks the cinematic environment—to perfection. This is exactly what MartinLogan Theater was designed and manufactured to do—effortlessly.

Frequency Response

70–22,000 Hz ±3dB

Horizontal Dispersion

30°

High Frequency Transducer

Three 1" (2.54) soft dome, controlled dispersion array

Mid Frequency Transducer

Patented CLS™ electrostatic transducer

Low Frequency Transducer

Two 6.5" (16.5cm) magnetically shielded. Non-resonance asymmetrical chamber format.

Sensitivity

90 dB/2.83 volts/meter

Impedance

Nominal: 4 Ohms
Minimum: 3.1 Ohms at 140 Hz. Compatible with 4, 6, or 8 Ohm rated amplifiers.

Recommended Amplifier Power

20‒500 watts per channel

Crossover Frequency

300, 3000 Hz

Components

Custom wound audio transformer, air core coils, polypropylene capacitors

Inputs

Custom 5-way binding posts

Weight

57 lbs. (26 kg)

Dimensions (without wall-mount/stand)

10.5" × 43" × 11.5"
(26.7cm × 109.2cm × 29.2cm)

Dimensions (with wall-mount/stand)

13" × 43" × 11.5"
(33cm × 109.2cm × 29.2cm)

Specifications are subject to change without notice.