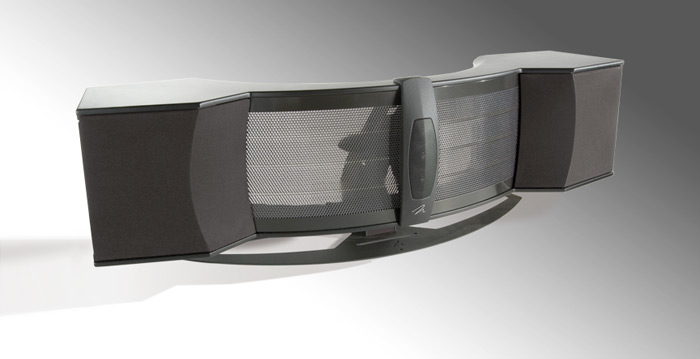 Theater i
DISCONTINUED
Launched in 2003
---
Price when discontinued:
$2,795
each
---
Theater i
The Reference Electrostatic Center Channel
From the beginning, the center channel has been recognized as the most critical element in any home theater and multi-channel music system. It grabs your attention, grounds the cinematic experience, and holds you in the moment. Designed and executed precisely, the center channel bridges the main channels and provides a seamless sound stage that tracks the cinematic environment—to perfection. This is exactly what MartinLogan Theater i was designed and manufactured to do—effortlessly.

Frequency Response

70–22,000 Hz ±3dB

Horizontal Dispersion

30°

High Frequency Transducer

Three 1" (2.54) soft dome, controlled dispersion array

Mid Frequency Transducer

Patented Generation 2 CLS™ electrostatic transducer

Low Frequency Transducer

Two 6.5" (16.5cm) magnetically shielded. Non-resonance asymmetrical chamber format.

Sensitivity

90 dB/2.83 volts/meter

Impedance

4 Ohms, 3.1 at 20 Hz. Compatible with 4, 6, or 8 Ohm rated amplifiers.

Recommended Amplifier Power

20‒500 watts per channel

Crossover Frequency

300, 3000 Hz

Components

Custom-wound audio transformer, air core coils, polypropylene capacitors

Inputs

5-way binding posts

Weight

57 lbs. (26 kg)

Dimensions (without wall-mount/stand)

10.5" × 43" × 11.5"
(26.7cm × 109.2cm × 29.2cm)

Dimensions (with wall-mount/stand)

13" × 43" × 11.5"
(33cm × 109.2cm × 29.2cm)

Specifications are subject to change without notice.