Professional Reviews
MartinLogan BalancedForce 212 subwoofer
The BalancedForce 212s are so flexible that I can imagine them—used in almost any room, and with almost any speaker—restoring the tactile impact and low-end reach that other subs usually leave by the door... Whether or not you have MartinLogan speakers to pair them with, I strongly, strongly recommend the BalancedForce 212. It's definitely not a tubby thumper, and no imagination is needed, because nothing is missing.

—Jon Iverson, Stereophile
Read the full review »
MartinLogan BalancedForce 212 Subwoofer
The BF212 is one of those rare subwoofers that can be described as essential. It delivers uncompromised bass with clarity, accuracy, and an utter lack of colorations. Once it's been tuned to a room with ML's Perfect Bass Kit, there's a high likelihood that you'll never need another sub. Never… it is my judgment that the BalancedForce 212 is in a class with the best subs available to the home-audio enthusiast. The BF212 is one for the short list -- it's required listening for anyone who's dead serious about the low end. Highly recommended.

—Kevin East, SoundStage! Hi-Fi
Read the full review »
MartinLogan Stealth Series Vanquish and Axis Speakers Reviewed
The MartinLogan Stealth line of architectural speakers impressed me. Their build and component quality is significantly high. It is obvious that much thought went into the design of these speakers, and the results are ultra high-end. MartinLogan has created a quality product that will provide a proud sense of ownership. When coupled with the BalancedForce 210 subwoofer, the sum performance was greater than any one speaker's individual achievement. I used to avoid my family room... However, thanks to the addition of the Vanquish and Axis speakers, I now find myself wanting to watch movies in the family room. I would highly recommend this product if you are considering an architectural speaker solution for your space

—Greg Handy, Home Theater Review
Read the full review »
MartinLogan Balanced Force 210 Subwoofer
I can't claim that the MartinLogan BalancedForce 210s are the end-alls in low-end reproduction, or that they will fool you into thinking there is an actual standup or electric bass sitting in your living room. What I can say is that they have brought me much closer to the real thing and made me a believer in subwoofing. Now that the 210s are in my listening room, my music–and not just music where bass is prominent–has taken on a new life. They have made a far greater difference in my stereo than any other component I can remember in a very long time. If you have a large room or really feel the need to hear low bass, the BalancedForce 210s are essential tools to getting the most out of your music.

—Spencer Holbert, The Absolute Sound
Read the full review »
Customer Reviews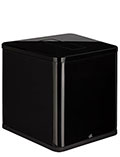 BalancedForce 212
Two 12-inch drivers, leading-edge technology and a unique force-canceling driver configuration yield deep, powerful, yet controlled bass that perfectly complements all speakers.
---
by Roger E., 3 years ago






Essential addition for large spaces, build quality is first rate
I have a pair of 212s teamed with Martin Logan Summit Xs to fill an open concept house with sound and the 212s are a key component to creating a unbeatable audio experience. After much research I concluded that my subwoofers needed to be precisely matched to my electrostatics, and the 212s were the answer. I have the 212s placed on the other side of the house from the Summit Xs but you would never know it as the lower frequencies appear to be coming from the Summit Xs. The 212s are not inexpensive, but the build quality and audio rewards are top notch, and it is a product that will last you for a few decades.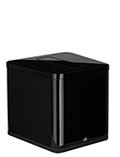 BalancedForce 210
Two 10-inch drivers deliver deep, powerful, yet amazingly detailed bass at price that makes BalancedForce 210 a best buy among subwoofers.
---
by Glen J., 2 years ago






Seamless extension to the lowest octave of human hearing
I used to work in the field of engineering acoustics, including some work in speaker evaluation using impulse functions. When I saw that Martin Logan was selling some subwoofers that were capable of custom tuning using what appeared to be a familiar technique, I had to have one. The PBK space averaged transfer function that they appear to be using just begged to come home with me.

So I bought the BalancedForce 210 and ordered the PBK accessory to be delivered later. I thought this set up would have really excellent "play value" for someone with my interests.

It was my plan to mate this subwoofer to my Theos main speakers in a two channel system. I noted that Martin Logan has a custom function that can be downloaded to effect this pairing, and I intend to install the proper file later.

I am writing this note today because, following the instructions in the BalancedForce 210's owner's manual, I was able to pair the subwoofer with the Theos beautifully, and without resorting to downloading any files or using the PBK accessory. I will look forward to doing these future tweaks, but for now I am wrapped up in very pleasant listening.

The Theos are quite good, have a +/- 3 dB limit at about 43 Hz. The 210 allows you to pick up the next lower octave of program content.

Many two channel sources have very little, or even no acoustic content in this lowest audible octave, but for many recordings, the lowest audible octave adds richness and reality to things like large drums, very low bass notes from organs, electric basses, acoustic basses, synthesizers, organs, and the like.

I've played through several cds today, and I think there were noticable improvements that I could hear in every case. Most of the musical program material that I selected was chosen for my love of the music. But eventually I had to try some recordings that present special challenges to reproduction equipment. The most notable of these was Paula Cole's "This Fire." I have NEVER before heard a believable playback of the first cut, Tiger. There are a couple of bass segments on this cut that will cause every other speaker, including the unaugmented Theos, to crash and burn. The Theos augmented by the 210 breezed through this cut, including all of the absurd infrasonic bits that accompany the audible low bass notes.

I like this subwoofer better than I thought I would. Its low frequency cut off limit is 30 Hz, so this allows it to "get out of the way" of the Theos very effectively, and they mate up exceedingly well. The stock settings of 90 degrees for phase, 0 for the 25 Hz boost/cut setting, 4 for the level setting, and 30 for the low frequency limit setting seem to be hard to improve on. I look forward to being proven wrong when I get around to downloading the Theos matching file, and going through the PBK set up.

I would buy this component again without reservations.