Crescendo X is a luxury wireless speaker featuring Bluetooth®, AirPlay, and whole-home wireless streaming with DTS® Play-Fi® + "Works with Alexa" certification. Under the grill, the Crescendo X includes dual audiophile quality Folded Motion™ tweeters and a 5x7-inch mid/bass woofer for a deep, extended bass response. The Crescendo X is capable of reproducing sound with unflinching accuracy, resolution, and detail—the inspiration behind every MartinLogan design.
Launched in 2016
Price when discontinued:
$999.99 each
Our dedicated in-house design and engineering team created the ultimate table-top speaker system in a sleek, compact design without compromising sound quality. Taking a "no-compromise" approach, the Crescendo features premium construction and design elements not typically found in similar speakers.
Inspiring Design
MartinLogan has always blended Science with Art, and the Crescendo X is no exception. Designed to fit a modern decor, MartinLogan utilizes high-quality materials and finishes to give Crescendo X a furniture and artwork like appearance. The result is striking.
The dense cabinet enclosure, wrapped in either high-gloss piano black paint or real-wood walnut veneer, floats atop a sturdy aluminum stand and looks comfortably at home in any decor where aesthetics are as important as sound quality. A cleanly integrated, front mounted control panel allows quick access to power, input and volume controls.

For across the room control, Crescendo X includes a custom remote control built from black anodized extruded aluminum.
Unmatched Performance
At the core of the Crescendo X is an advanced 24-bit 48kHz DSP (digital signal processing) based preamplifier in conjunction with a powerful class-D closed-loop 100-watt (140-watt peak) amplifier. Crescendo X's amplifier creates powerfully detailed sound from a custom designed front-firing 5x7-inch matte black polypropylene cone woofer with extended throw drive assembly in a non-resonant asymmetrical chamber format. Low frequencies are seamlessly blended with two of MartinLogan's high-performance Folded Motion™ tweeters for an astonishing, room filling experience.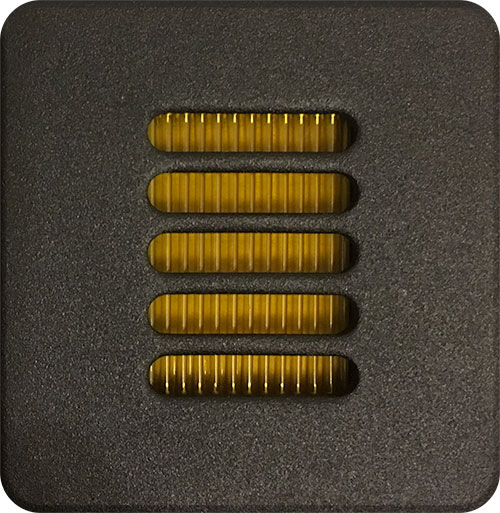 Folded Motion® Tweeters
The signature Folded Motion tweeters utilize extremely low mass diaphragms that "squeeze" air, and require significantly less excursion than the typical 1-inch dome tweeter, which drastically minimizes distortion while providing a lightning fast response time. The increased surface area also provides a wide, yet controlled sound dispersion to create a realistic and carefully etched sound stage.
Crescendo X is crafted with a solid MDF enclosure that strengthens and intensifies low-frequency bass performance while minimizing vibrations. To further enhance bass performance, Crescendo X features an optional subwoofer output via an analog RCA connection. This option, not typical of tabletop speaker systems, customizes the crossover between the Crescendo X and subwoofer to give true audiophiles the ability to supplement the low-frequency performance of their system.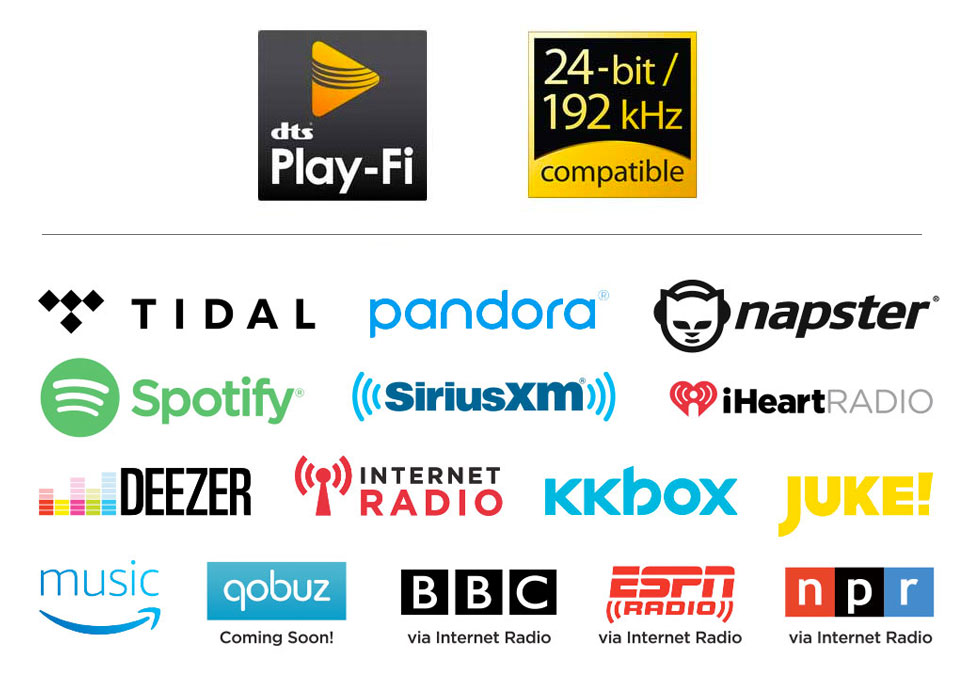 Whole-House Music Streaming
DTS Play-Fi technology give you the freedom and flexibility to stream high-resolution music (up to 24- bit/192kHz) wirelessly over an existing Wi-Fi network. Unlike many other wireless platforms, DTS Play-Fi is an open platform, allowing you to mix and match any DTS Play-Fi-enabled audio products from other top audio brands into your ecosystem. Take advantage of endless choices, from your own music library to online music streaming services*, and stream music from virtually any device – Android, iOS, Kindle Fire or PC.
* Some of the music services listed below may not be available in your region. All logos are property of their respective owner(s).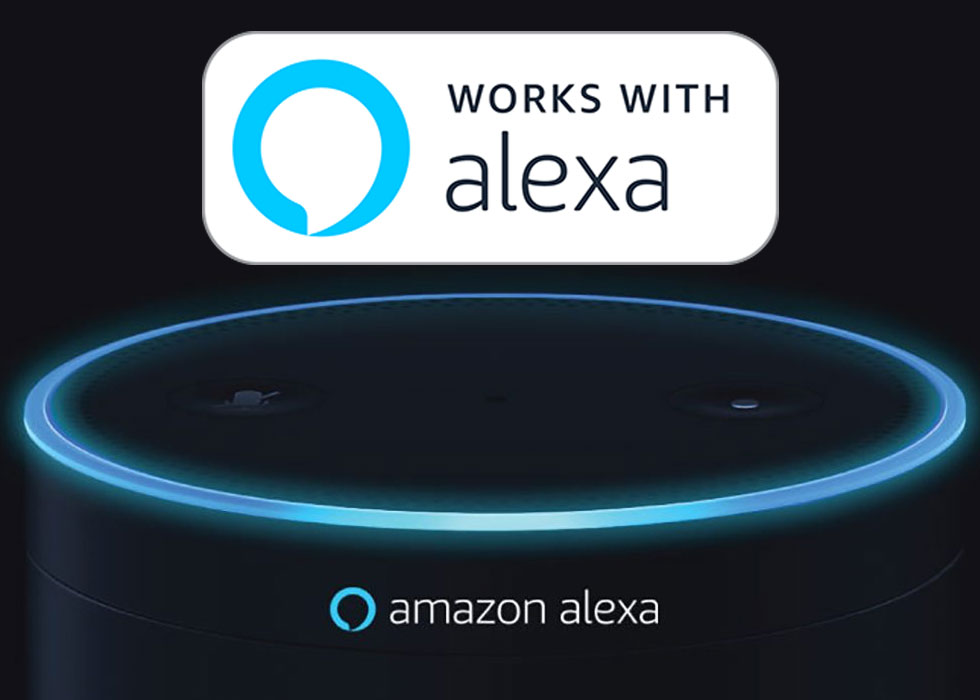 Works with Alexa
MartinLogan DTS Play-Fi products now have "Works with Alexa" certification, meaning they can be controlled using voice commands given to an Amazon Echo, Echo Dot, Echo Show, Fire TV Cube, or other Alexa voice command-enabled device. Alexa functionality is activated by using the Alexa app to enable the DTS Play-Fi skill. This links your Alexa account to "Works with Alexa" DTS Play-Fi compatible products like this one.
After installing the skill, Alexa will know your speaker by name and allow you to control volume and playback functions such as track skip, mute, pause, and stop or request a song to play in a specific room or group of rooms linked together. Once an Alexa voice command is used to start audio playback, the DTS Play-Fi app can be used to dynamically add more products to the streaming session. Additionally, Alexa's Routines feature can be used to create events that initiate audio playback on your DTS Play-Fi speaker, such as setting up your speaker to work as an alarm clock by starting your favorite song.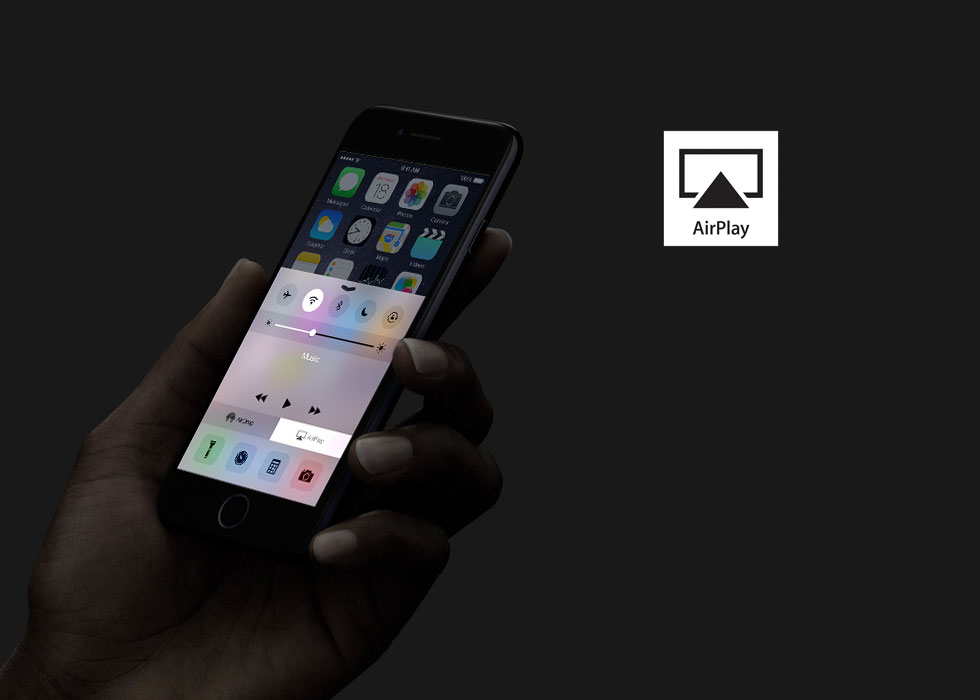 Advanced Connectivity
Seven input methods allow for connection of virtually any device:
DTS Play-Fi – via the DTS-Play Fi app, stream audio from capable devices over a Wi-Fi network (iOS, Android, PC or Kindle Fire)
AirPlay – connect AirPlay capable devices wirelessly (iPhone, iPad, iPod, or a computer with iTunes) to stream audio.
Bluetooth – connect Bluetooth capable devices wirelessly to stream audio. Bluetooth V4.0 supports SBC, MP3, AAC, and apt-X®.
Wired Ethernet – audio information can be sent over a LAN to the Crescendo using various protocols (such as AirPlay or DLNA)
USB – connect compatible Apple devices and use the Crescendo as an audio dock and charger. The USB connection was designed to rapidly charge a variety of devices.
Analog – any device that has an analog audio output can connect to the auxiliary analog input via a 3.5mm headphone style jack.
Optical digital – any device that has a digital optical output can connect to the auxiliary digital input with the included mini-Toslink optical adapter (analog and digital connections share the same input).