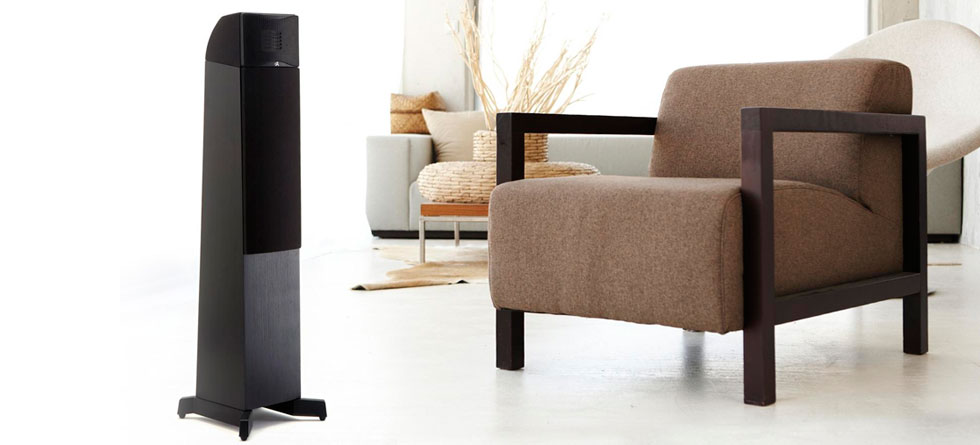 Motion® 12 & 10 Floorstanding Speakers
Motion 10 & 12 tower speakers are the original floorstanding speaker models in MartinLogan's award-winning Motion® Series. Voice-matched with the entire Motion Series products, they feature our advanced resolution Folded Motion™ tweeter and have been designed with a unique aesthetic unlike anything you've seen before.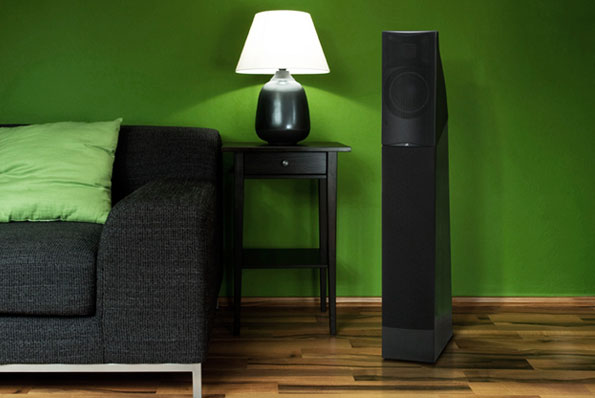 Engineering Genius
What makes the Motion Series sound so amazing? MartinLogan's dedicated in-house engineering team started by utilizing and refining the most advanced, compact technologies and combining them with innovative engineering. The result is an emotionally engaging sound that rivals (and most times trounces) traditional loudspeakers of similar size and price. Although our engineers won't reveal exactly how they make the sausage, here are a few technologies that help give MartinLogan Motion Series such a unique sound:
Folded Motion™ Tweeter
Never settle. That's exactly what's on the minds of our engineers when they develop every MartinLogan speaker. Just take a look at the innovative Folded Motion Tweeter. This exotic tweeter—you know, similar to other tweeter technologies found on ultra-high-end speakers—helps gives Motion speakers their fantastically realistic highs. Lightning fast transient response, combined with a large surface area (8-times that of a typical 1" dome tweeter) creates clear, highly dynamic and precise sound.
This is one sweet tweeter.
The Folded Motion Tweeter works by moving air (which creates sound) perpendicular to the folded ridges of the diaphragm, similar to how an accordion works. This extremely low mass diaphragm "squeezes" air and requires almost 90% less excursion than the typical 1" dome tweeter, which drastically minimizes distortion while providing a lightning fast response time. The increased surface area also provides a wide, yet controlled sound dispersion to create a realistic and carefully etched sound stage.
Technical Specifications
Click to download in PDF format:
Motion 10
Motion 12
Frequency Response
(+/- 3dB)
65-25kHz
40-25kHz
Dispersion
80° x 80°
80° x 80°
Sensitivity
90 dB @ 2.83 V/m
92 dB @ 2.83 V/m
Nominal Impedance
4 ohms. Compatible with 4, 6 or 8 ohm rated amplifiers.
4 ohms. Compatible with 4, 6 or 8 ohm rated amplifiers.
Crossover Frequency
3.0 kHz
300 Hz & 3.0 kHz
Recommended Amplifier Power
20-200 watts
per channel
20-300 watts
per channel
High Frequency Driver
1" x 1.4" (2.6cm x 3.6cm) Folded Motion™ Tweeter
with 5.25" x 1.75" (13.3cm x 4.4cm) diaphragm.
1" x 1.4" (2.6cm x 3.6cm) Folded Motion™ Tweeter
with 5.25" x 1.75" (13.3cm x 4.4cm) diaphragm.
Midrange Driver
N/A
5.25" (13.3cm) dipole paper cone with cast aluminum baskets.
Low Frequency Driver
Two 5.25" (13.3cm) paper cones with cast aluminum baskets.
Two 6.5" (16.5cm) paper cones with cast aluminum baskets.
Low Frequency Driver Properties
Non-resonant asymmetrical chamber format.
Non-resonant asymmetrical chamber format.
Cabinet
Ported
Ported with dipole mid-range
Crossover Components
Custom air core coil and low DCR steel laminate inductors. Polyester film capacitors in series and low DF electrolytic capacitors in parallel. Overall system thermal/current protection.
Custom air core coil and low DCR steel laminate inductors. Polyester film capacitors in series and low DF electrolytic capacitors in parallel. Overall system thermal/current protection.
Binding Post Inputs
Push style with banana jacks
Push style with banana jacks
Weight
22 lbs. (10 kg)
36 lbs. (16.3 kg)
Dimensions (HxWxD) in
35.1" x 9.9" x 10"
42.8" x 7" x 14.1"
Dimensions (HxWxD) cm
89.1cm x 25.1cm x 25.4cm
108.7cm x 17.8cm x 35.8cm