2008 marks MartinLogan's 25th anniversary and the first expression of the CLX, the CLX 25th Anniversary Edition, commemorates this important milestone and will be presold as a limited edition through select distribution.
The CLX delivers the truth – the culmination of everything we have learned about electrostatic technology since we brought our first product to market in 1983. Purity of sound permeates your entire room and satisfies even the most critical ear. The new industry benchmark for resolving detail, CLX utilizes dual electrostatic transducers to render the most complex musical passages as faithfully as a crystal prism disperses the full color spectrum. This is the limitless spectrum of the CLX – the absolute truth in musical reproduction.
57-Inch CLS™ XStat™ Electrostatic Transducer
MartinLogan's award winning Curvilinear Line Source™ XStat™ electrostatic (ESL) technology allows smooth unencumbered dispersion of sound throughout the listening area. The result? Perfectly etched imaging and focus achieved through minimal room interaction; optimum natural reproduction of sound with full level response from ultra-linear transducers; reliable operation in open air; compatibility with all electronics; and seamless dispersion of precise sound throughout your listening environment.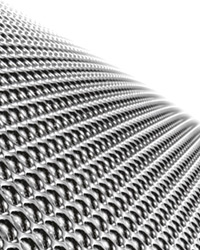 Advanced MicroPerf stator technology gives MartinLogan's latest-generation CLS™ electrostatic transducer almost twice as much exposed diaphragm surface as a traditional electrostatic panel of the same size. This dramatic increase in effective radiating area translates to higher efficiency and an even more effortless, unlimited dynamic presentation. The XStat pulls no punches!
But there's more to it than just putting more holes in the stators. ClearSpar™ spacers stiffen the assembly further across its width. ClearSpars enable precise, consistent tensioning of the Vacuum Bonded diaphragm without obstructing the floating, see-through look that is the visual hallmark of MartinLogan electrostats.
In the end, a speaker cannot outperform the signal feeding it. MartinLogan's state-of-the-art toroidal transformer and electrical interface engineering ensure an absolutely transparent link from amplifier to electrostatic panel. The result is sound of unparalleled purity, precision, clarity, and openness – the next best thing to no speaker at all.
Curvilinear Line Source Electrostatic Panel
One of MartinLogan's original breakthroughs, CLS™ technology has been an essential ingredient of every electrostatic loudspeaker we've produced. Proprietary manufacturing methods enable construction of electrostatic panels as cylindrical sections. Their gentle horizontal curvature solves the problem of obtaining good high-frequency dispersion from a large radiating surface without compromising overall sound quality or reliability.
57-Inch DualForce™ Double Diaphragm, Triple Stator Low-Frequency Electrostatic Transducer With Dipole Phase Stabilization
CLX's unique DualForce™ double diaphragm, triple stator dipole low-frequency electrostatic transducer delivers deep, dynamic bass with twice as much force as a standard ESL. Additionally, CLX's low-frequency dipole stabilization technology reduces low frequency rear wave cancellation inherent to dipole transducers. This is accomplished by increasing the air path length behind the CLX and delaying the out-of-phase back wave. The resulting decrease in low-frequency front-wave cancellation increases overall output while minimizing total harmonic distortion at low frequencies.
Vacuum Bonding
The components of each XStat™ panel – two insulated, high-purity carbon steel stators, plasma-deposited PET diaphragm, and ClearSpar™ spacers – are fused into a cylindrical-section geometry with an aerospace adhesive whose hold strength exceeds that of welding. Our proprietary Vacuum Bonding process ensures uniform diaphragm tensioning and facilitates the extremely tight tolerances necessary for construction of such a precision transducer.
MicroPerf Stators
Although stators are the elements of an electrostatic driver that are supposed to stand still, they carry the audio signals that do the work of propelling the diaphragm back and forth to move air and produce sound. Because the stators sandwich the diaphragm between them, they must be perforated to allow sound to pass through. Yet they must also be rigid enough to remain absolutely stationary despite the strong electrostatic forces pushing and pulling at them during operation.
MartinLogan's MicroPerf design optimizes this tradeoff by reducing the size of the individual holes and using many more of them than in a traditional electrostatic panel. MicroPerf almost doubles effective diaphragm radiating area without compromising structural integrity. The resulting increase in output capability and efficiency allows a panel to be made much smaller without sacrificing performance – or to enjoy a substantial leap in bandwidth and dynamics without growing larger.
Vojtko™ Filter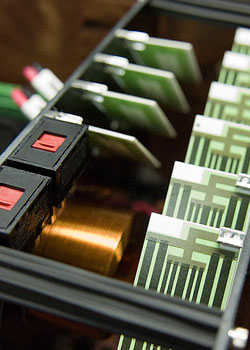 Featuring an advanced proprietary Vojtko™ filter topology, MartinLogan electronic specialists hand-build each CLX filter utilizing only the finest of components and construction techniques to assure the cleanest, most precise signal path possible. The resulting precision filter flawlessly preserves even the smallest subtleties in sound while effortlessly handling the broadest range of dynamics contained within even the most demanding sonic source, whether used in a 2-channel audio system or dedicated home theater.
Within the interface module, a regulated power supply creates stable bias voltages even under the most extreme conditions. Dual transformer design utilizes a toroidal audio transformer for detailed mid- and high-frequencies, and a high-quality, high-voltage E.I. transformer for dynamic, linear bass. All high-voltage leads are made of the purest copper and coated with silicone. Only superlative materials, including thick film on alumina substrate resistors and polypropylene capacitors, are used throughout.
Custom CLX / Subwoofer Filter
Seamless blending between a subwoofer and full-range loudspeaker is, at the best of times, challenging—and when you're dealing with a no-holds-barred reference level product such as the CLX there is no room for error. The addition of an optional custom 'CLX filter' to the Descent i and Depth i subwoofers takes the headache out of achieving superb low-frequency performance.
The optional Descent i/Depth i CLX filter board contains an optimized low pass filter that precisely matches the 56Hz low-frequency roll off of the CLX. Once this custom board is installed inside of your subwoofer, setup is only a matter of adjusting the phase and level of your sub.
This custom filter is applied only to the left and right inputs of your subwoofer. The sub's LFE input remains unfiltered, which allows surround preamp/processors to send low-frequency information for the center, surround, and LFE channels without compromising the performance of your CLX.
Dipole Sound Radiation
By utilizing electrostatic dipole dispersion patterns for both of the transducers CLX provides full benefits of electrostatic technology from the highest frequency to the lowest. Dipole design minimizes side-wall reflections with short arrival times that tend to interfere with perception of the direct sound while producing a generous amount of ambience-enriching later-arriving reflections off the wall behind them. Additionally, uniform drive across the transducer surfaces, light-weight ultra-responsive diaphragm material, and simultaneous push-pull operation enable the diaphragms to trace even the most delicate sonic details with absolute precision.
The sound we hear from a loudspeaker is a combination of direct radiation from it to our ears and reflections off of room surfaces – walls, floor, and ceiling. How our brains integrate all this information is far from simple. Depending on the angle of incidence to the ears and the arrival-time difference between direct and reflected sound, reflections can either blur detail and stereo imaging or enhance the natural impression of depth and openness.
True dipole speakers, such as electrostatic panels, have long been noted for their near-ideal radiation patterns. They send very little sound to the sides, thereby minimizing side-wall reflections with short arrival times that tend to interfere with perception of the direct sound. Their strong rear radiation, however, produces a generous amount of ambience-enriching later-arriving reflections off the wall behind them.
Audiophile Grade Solutions For Every Performance Detail
CLX's optional audiophile grade power cord eliminates irregularities in power delivery. Custom ETC™ (Energy Transfer Coupler) spikes enhance stability on thick carpets, create tighter coupling between speaker and floor, and provide a tighter bass response.
EcoSound and Environmentally Conscious Design
Spectacular bass sound reproduction isn't the only technical breakthrough showing up in the new MartinLogan CLX. This incomparable full range electrostatic loudspeaker is also manufactured from the most beautiful, rigid and earth friendly material available – EcoSound.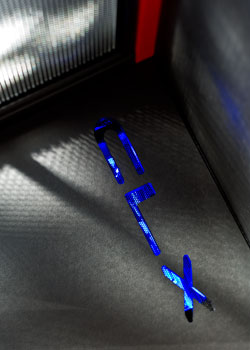 We chose EcoSound because the CLX design called for an extremely rigid structurally sound frame material. Also given our commitment to the use of earth-friendly manufacturing, we wanted a fully sustainable material as well.
EcoSound is the latest innovation to come from our partnership with Klip BioTechnologies, designers of sustainable manufacturing materials. It is a FSC certified 50/50 blend of renewable bamboo fiber and 100% post consumer recycled wood and/or paper fiber. These are permanently bonded together using water-based resin that is both petroleum and VOC free.
Rigorous testing has found the EcoSound material used in the CLX to provide superior internal damping compared to MDF and other more traditional materials. This is a critical to maintaining the CLX's superior sonic clarity and lack of sonic cabinet contributions.
Beautiful, dense, durable, and made from 100% earth friendly materials, EcoSound has a unique natural surface texture with edges like smooth stone. EcoSound's rich black color will not fade from UV exposure over time. Additionally, the CLX's EcoSound surface provides superior scratch resistance and unlike traditional materials, it will not swell due to excessive humidity. It is simple to maintain with an occasional application of finishing oil.
Finish Options
The 25th Anniversary CLX is exclusively available in clear or black anodized solid billet aluminum with white LED lights.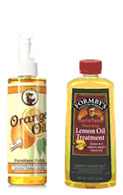 Caring for EcoSound
We encourage you to occasionally apply finishing oil to maintain the EcoSound's rich dark color and keep your CLX loudspeakers looking their very best.
Using a soft, lint-free cloth, simply hand rub furniture grade finishing oil onto the EcoSound surface. We recommend natural orange or lemon fine furniture oil for best results. This easily repeatable process will always return your EcoSound to its original uniform luster.