With a footprint of less than one square foot, Aeon delivers the highest resolution in detail and image with dramatic bass attack from its new, state-of-the-art woofer, next generation enclosure materials and advanced construction techniques. The world's most accurate transducer—the MartinLogan ESL—and this radical new woofer set new standards for precision. At the crossover point the woofers absence of distortion rivals the unprecedented resolving ability of the electrostatic panel.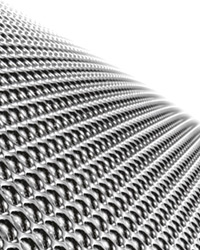 Aeon maintains its high frequency response and flawless precision with advanced crossover topology, audiophile grade components and point-to-point wiring to insure the highest levels ever of transparency, linearity and seamless integration.
The soundstage, dynamics and openness exhibited by this reference quality transducer allow the Aeon to excel as a stereo main, home theater front or effects channel in a myriad of room sizes and configurations—truly the most accurate, versatile and refined loudspeaker in its class.
Available with a variety of hand-finished trim options, the Aeon comes with MartinLogan's exclusive industry benchmark ETC spikes for maximum bass performance and proprietary high resolution, state-of-the-art, toolless binding posts for effortless cable attachment and management.