Matinee is a highly evolved expression of the same ideas and engineering that spawned the Stage™ and Motif™ speakers. A state-of-the-art MicroPerf electrostatic panel, dual paper-cone woofers, and highly sophisticated Vojtko™ crossover deliver unrivaled precision and center-channel intelligibility.
Wall-mount brackets and an optional pivoting stand with 35 degrees of motion (sold seperately) allow Matinee to work as either a center or surround speaker, mounted on- or off-wall, horizontally or vertically. Only a handful of speakers (our own floorstanding electrostats) match or outperform the Matinee in any of these applications, and none outpace it in all of them.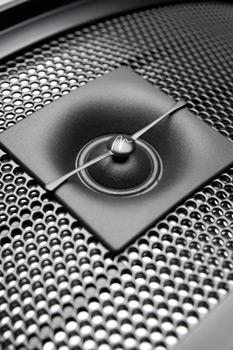 Hybrid Dynamic Technology
What really sets the Matinee apart is a high-resolution neodymium soft dome tweeter embedded directly in the electrostatic panel. By eliminating the need for a bulky tweeter-housing mounted in front of the ESL panel (as found on the Cinema and Theater center channels), the Matinee all but eliminates high-frequency diffraction. This unique mounting system also increases mid-range/high-frequency phase coherence and time alignment while offering superior dispersion characteristics (compared to previous MartinLogan center channels).
CLS™ Generation 2 Electrostatic Panel
Innovative manufacturing techniques enabled MartinLogan to produce the original Curvilinear Line Source panels, the first wide-range electrostatic drivers to deliver good horizontal sound dispersion without sacrificing overall sound quality or reliability. CLS Generation 2 builds on that success with advanced diaphragm and stator technologies that significantly enhance speaker efficiency and dynamics.
Our new thin-film plasma-deposition process applies an improved conductive coating to the ultra-low-mass PET (polyethylene terathylate) diaphragm for superior adhesion and abrasion resistance, as well as a better impedance characteristic. MicroPerf stators expose more of the diaphragm surface, dramatically expanding effective radiating area without increasing panel size, while ClearSpar™ spacers help maintain their stiffness without impairing the signature transparent look of MartinLogan electrostats.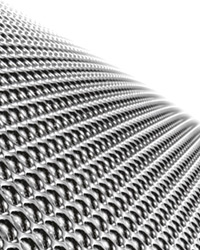 Curvilinear Line Source Electrostatic Panel
One of MartinLogan's original breakthroughs, CLS™ technology has been an essential ingredient of every electrostatic loudspeaker we've produced. Proprietary manufacturing methods enable construction of electrostatic panels as cylindrical sections. Their gentle horizontal curvature solves the problem of obtaining good high-frequency dispersion from a large radiating surface without compromising overall sound quality or reliability.
MicroPerf Stators
Although stators are the elements of an electrostatic driver that are supposed to stand still, they carry the audio signals that do the work of propelling the diaphragm back and forth to move air and produce sound. Because the stators sandwich the diaphragm between them, they must be perforated to allow sound to pass through. Yet they must also be rigid enough to remain absolutely stationary despite the strong electrostatic forces pushing and pulling at them during operation.
MartinLogan's MicroPerf design optimizes this tradeoff by reducing the size of the individual holes and using many more of them than in a traditional electrostatic panel. MicroPerf almost doubles effective diaphragm radiating area without compromising structural integrity. The resulting increase in output capability and efficiency allows a panel to be made much smaller without sacrificing performance – or to enjoy a substantial leap in bandwidth and dynamics without growing larger.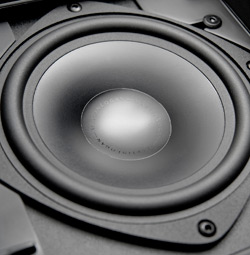 Low-Distortion Woofers
By eliminating cone flexure, Matinee's rigid paper-cone diaphragms help our advanced-technology woofers achieve the very low distortion necessary for proper blending with MartinLogan electrostatic panels.
On-Wall/Off-Wall Acoustic Contour Switch
Matinee features a unique 'on-wall/off-wall' switch that tailors acoustic equalization to either installation option. Simply set this switch to On-Wall if mounting to a surface. Set the switch to Off-Wall if the Matinee is more than four inches from a wall. Setting this switch ensures that you will achieve total system matching in even the most diverse setups (such as systems mixing on-wall and off-wall instal-lations).
Vojtko™ Crossover
Carefully hand-built using only the finest polypropylene capacitors and air-core coils, the crossover employ's MartinLogan's proprietary Vojtko topology for vanishingly low distortion and seamless driver integration. This precision-tuned network preserves even the most microscopic sonic nuances while handling the full dynamics of any source.
Application Versatility
Matinee is suitable for use in any stereo or multi-channel audio system, mounted either on- or off-wall. And it blends well with other MartinLogan speakers in both sound and appearance, which allows mixing and matching to meet specific installation requirements.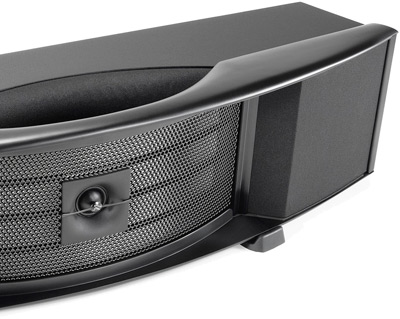 Installation Versatility
The Matinee LCR speaker easily installs on a set-top or shelf. Additionally, using the included wall-mount brackets and installation template Matinee may horizontally/vertically mounted to a wall (under or beside a plasma screen, for example).
Easy Installation Low-Voltage Power Supply
A low-voltage DC power supply eliminates the need for a traditional, heavy IEC power cord and increases installation flexibility.
Toolless Binding Posts
MartinLogan's proprietary toolless binding posts make cable connection and management easy.