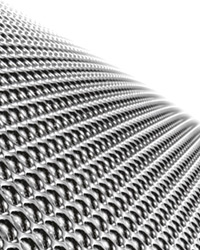 Odyssey leverages MartinLogan's breakthrough hybrid speaker engineering into a unique design maintaining controlled dispersion and outstanding dynamic range while minimizing room interaction. Its unique bass control system—adapted from Prodigy's exclusive ForceForward™—consists of two proprietary dynamic drivers engineered to perfection. A 10-inch rear-firing driver provides powerful depth while conditioning and extending bass room response. A second 8-inch front-firing driver extends and resolves bass detail, resulting in clean powerful bass throughout the listening room.
MartinLogan Statement E2 ClearSpar™ stator technology enhances Odyssey's transparent look while increasing both efficiency and power handling.
Odyssey's sculpted cabinet and elegant hardwood rails complement any décor. Available in matte black with a variety of hand-finished, quick-change trim options. Odyssey is both single and bi-wire capable.