From the beginning, the center channel has been recognized as the most critical element in any home theater and multi-channel music system. It grabs your attention, grounds the cinematic experience, and holds you in the moment. Designed and executed precisely, the center channel bridges the main channels and provides a seamless sound stage that tracks the cinematic environment—to perfection. This is exactly what MartinLogan Theater i was designed and manufactured to do—effortlessly.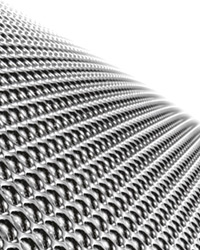 Theater i builds upon the foundation of the hugely successful Theater center channel loudspeaker by incorporating a myriad of design innovations including a Generation 2 stat panel featuring ClearSpar™ technology, MicroPerf stator, low-voltage DC power, and enhanced cabinet and stator finishes.
The Theater i's new Generation 2 stat panel incorporates a reformulation of our conductive coating and a new plasma deposition process. This refined thin film technology provides improved impedance tolerance and maximum adhesion and abrasion resistance. ClearSpar technology enhances Theater i's transparent look and increases both efficiency and dynamics. The new MicroPerf design reduces the size of individual holes in the stator, allowing more openings compared to a traditional MartinLogan ESL transducer, maximizing efficiency of the Theater i's small ESL transducer.
Fusing this ultra high-performance Generation 2 CLS™ transducer with dual proprietary 6.5" shielded dynamic bass drivers and an innovative controlled dispersion array has resulted in a design capable of fully resolving any sound from the subtlest dialog to room-shaking effects. Theater i's innovative controlled dispersion array minimizes destructive high-frequency room interaction.
To eliminate the need for a traditional IEC power cord and significantly increase ease of installation, especially for custom applications, the Theater i features a low-voltage DC power supply. To further enhance custom application options, the Theater i ships with a multi-mount stand attached. Whether the Theater i is placed atop a rear projection TV, wall mounted under a plasma screen, or placed on the floor, the unit can be precisely aimed simply by adjusting the proprietary MartinLogan handgrips.
Enhanced cabinet and stator finishes, standard on the Theater i, include the attractive and durable new semi-gloss black cabinet finish and shimmering, dark gray Meteor colored stators (the front and back perforated electrostatic panel elements). The Theater i is supplied with single-wire, high-resolution, proprietary toolless binding posts for effortless cable attachment and management.