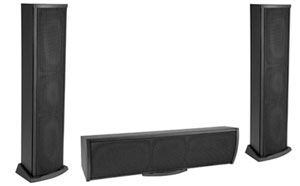 Designed to serve as a high performance front (left/right), surround channels, or center channel speaker for home theaters, the compact Encore TF delivers exceptional detail. An Advanced Thin Film driver, long-excursion low-mass woofers, and sophisticated crossover engineering combine to produce sound with a lifelike clarity and openness. Encore TF delivers compelling audio reproduction whether mounted beneath a high definition flat screen or used with the included table top stand.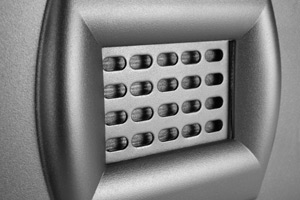 Advanced Thin-Film Drivers
Based on RADIA planar technology, high-resolution ATF™ drivers approach the clarity and detail of our electrostatic panels while permitting the use of a compact cabinet. Each MartinLogan ATF transducer has a micro-thin, low-mass diaphragm with an ultra-light, etched aluminum conductive surface, suspended between two opposite-polarity, high-field-strength neodymium magnet arrays. When the electrical audio signal from an amplifier passes through the diaphragm's surface, it creates an alternating electromagnetic field that interacts with the fields of the fixed magnet arrays, forcing it back and forth to produce sound waves in the air. The strength and polarity of the diaphragm's field varies according to the audio signal.
Like our electrostatic panels, ATF drivers are push-pull transducers: When the diaphragm's field polarity is the same as that of the magnet array on one side, pushing them apart, it is the reverse of the polarity on the other side, pulling it toward that opposing array with exactly the same force. This mode of operation is inherently linear. Another similarity to electrostats is that the diaphragm is driven uniformly over its entire surface, rather than at just a small contact area as in a conventional cone or dome driver. These two characteristics ensure precise, accurate reproduction with vanishingly low distortion.
The diaphragm substrate is Dupont Kaladex® PEN (polyethylene napthalate). This material is chemically akin to the PET (polyethylene terathylate) film used for the diaphragms of our CLS™ Generation 2 electrostatic panels, but capable of handling the heat generated by the current passing through an ATF diaphragm's thin aluminum skin.
Application Versatility
Encore TF is suitable for use in any stereo or multi-channel audio system, mounted either on- or off-wall. And it blends well with other MartinLogan speakers in both sound and appearance, which allows mixing and matching to meet specific installation requirements.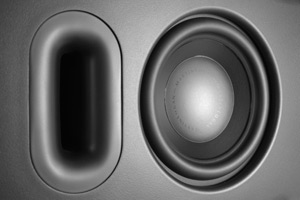 Installation Versatility
Each Encore TF comes standard with a non-skid tool less stand for use in vertical and horizontal table top installations. Additionally, a low-profile wall bracket is included that allows vertical or horizontal mounting next to a flat screen television or in any other location.
Low-Distortion Woofers
By eliminating cone flexure our advanced-technology woofers achieve the very low distortion necessary for proper blending with MartinLogan Advanced Thin Film transducers.
Vojtko™ Crossover
Carefully hand-built using only the finest polypropylene capacitors and air-core coils, the crossover employs MartinLogan's proprietary Vojtko topology for vanishingly low distortion and seamless driver integration. This precision-tuned network preserves even the most microscopic sonic nuances while handling the full dynamics of any source.